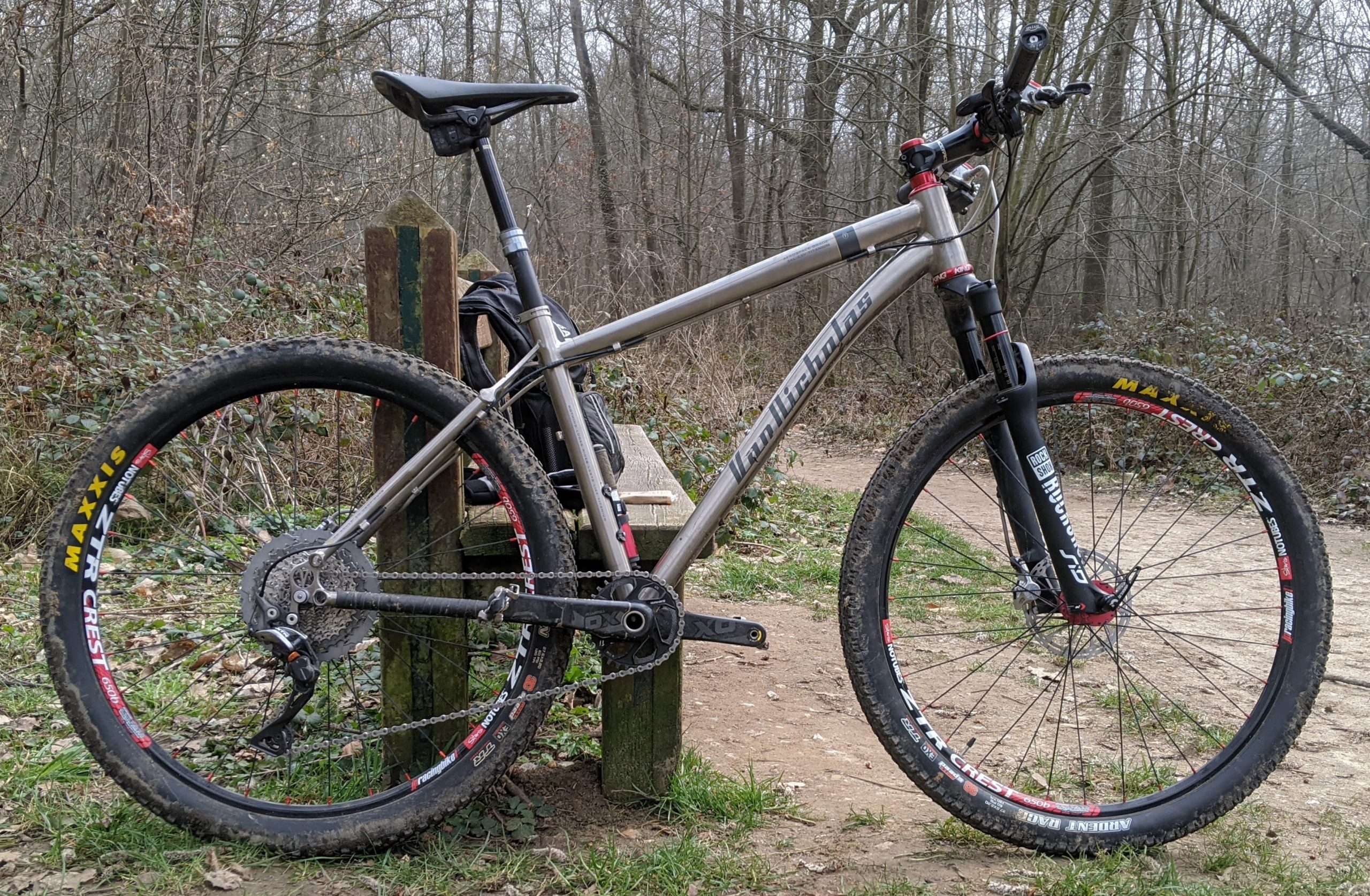 Van Nicholas Tuareg Titanium 27.5 : My 1*11 setup – cross country MTB 🙂

Updated : March 2021
This is the follow up to my last post concerning the Van Nicholas Tuareg 27.5″ frame build https://bit.ly/3sYbIhL
This is my latest post with all modifications since it's original build. It all started in 2013 when I sold my Rocky Mountain Tribal full suspension MTB, then a Van Nicholas Tuaref 26″ which broke on me. There have been quite a few changes since.
For the original build details starting with just the 27.5″ frame : https://bit.ly/3sYbIhL
My latest modifications :
The main modifications were :
Firstly switching to a 1*11 setup.
Secondly changing the Magura fork to a RockShox Sid RL.
Thirdly adding a dropper seatpost ROCKSHOX Reverb AXS wireless control.
The bike rides like a dream and it's handles just great. It feels perfect to me. I can't criticise it and even after nearly eight years or so as it still feels and looks like a new bike.
That's the nice thing about Ti frames. They don't age. No worn, scratched or chipped paint. They still look new after many years of riding.
I'd like to go 12 speed
Basically my setup is perfect. I'd love to go to a Shimano XTR 1*12 setup
(I hate the XT cassette. It looks horrible, but at the time of the build XTR wasn't an option)
I don't really need a 1*12 setup, although it would have a better and smoother choice in the cassette range but it is so expensive. I would need to change everything, Shifters, drive chain, derailleur and the cassette.
I'm also interested in the Sram Axs drive system. No wires to the derailleur, just like the dropper post. Now that would be neat. But again so expensive…
A great MTB and a great ride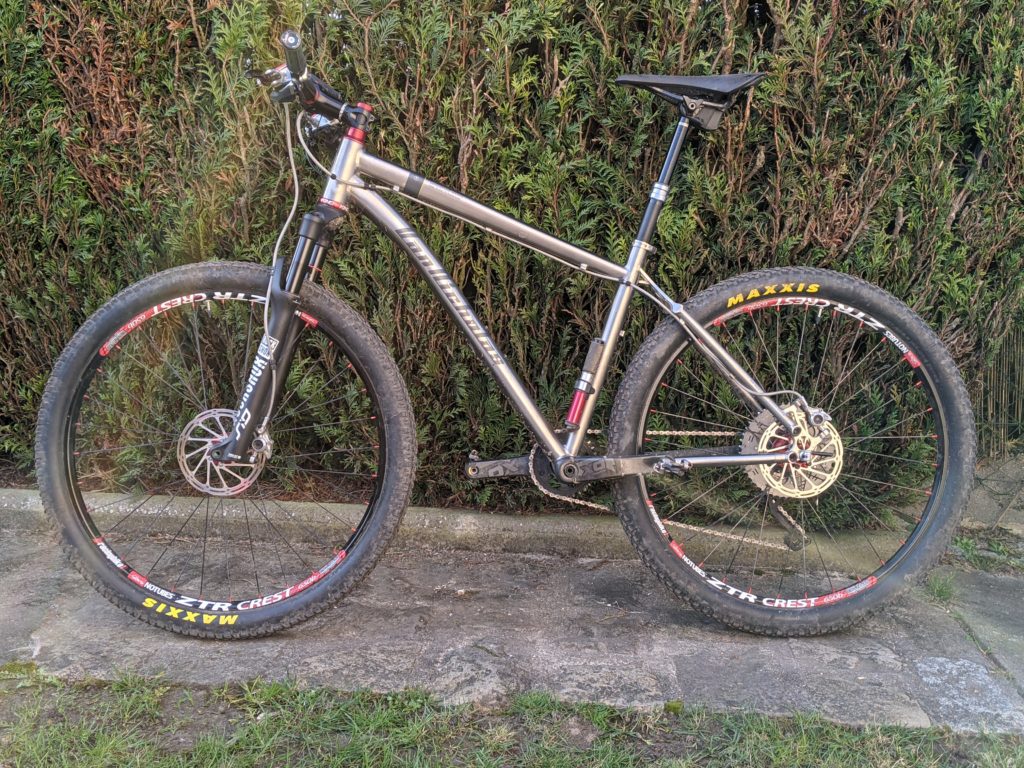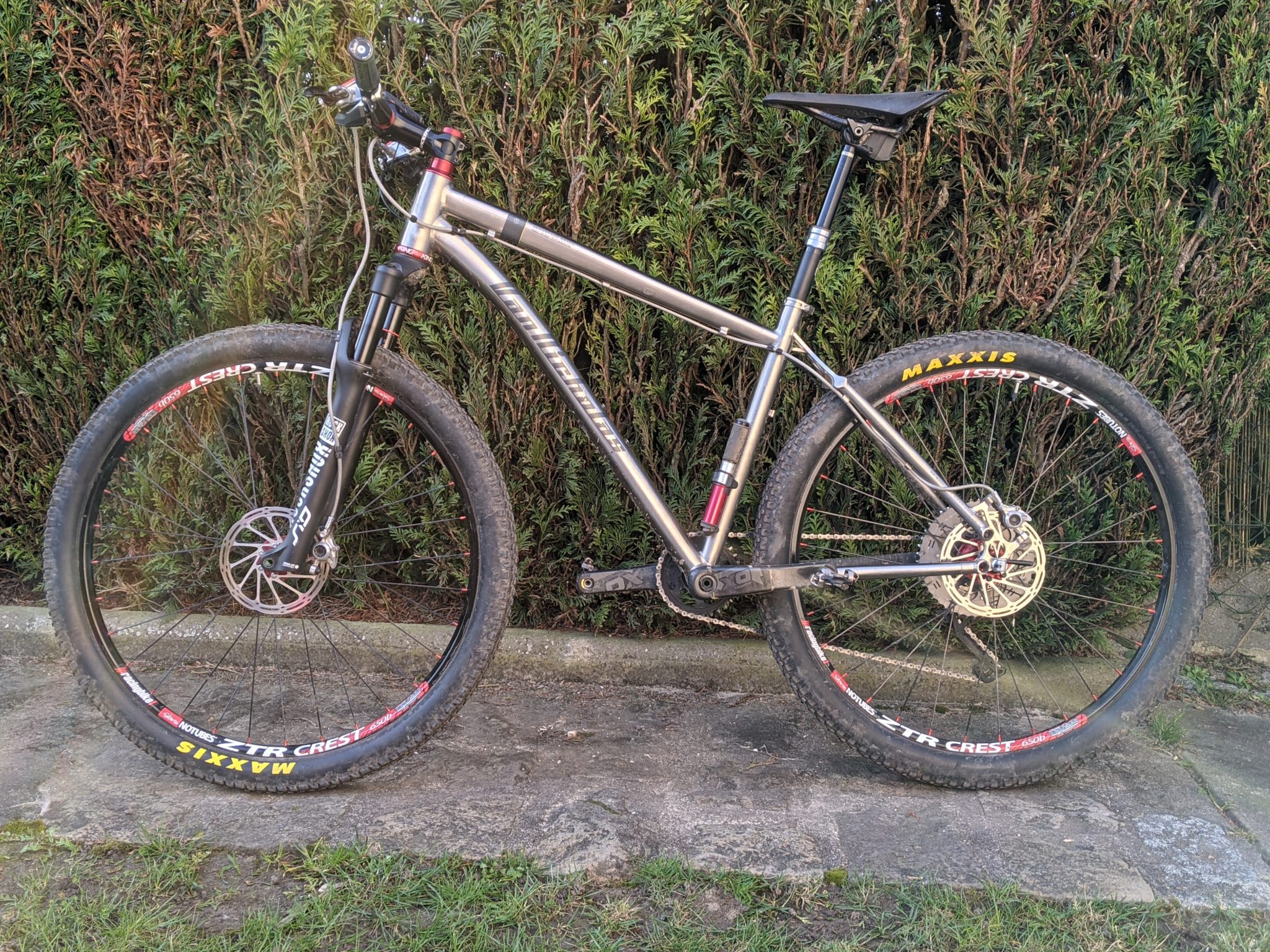 Frame : Van Nicholas Tuareg Titanium 27.5″, weight 1.76 kilos
Fork : Rockshox Sid RL 100mm, weight 1.57 kilos

Wheels : Handbuilt NoTubes Crest, Duke King Kong Hubs Front and Hope Pro at the back ( The Duke broke on me while doing the Roc years ago), with CxRay sapin spokes & DT prolock hexa nipples. Weight 1.38 kilos the pair
Tyres : Front : Maxxis Ardent. Back : Maxxis Icon

Brakes : Hope Tech X2, 160cm front, 160cm, sadly no more matchmakers from Hope as they don't make them for the tech X2 and the XTR shifter version 2018
Gears : Cassette XT M800 11 speed. Shimano XTR M9000 Shadow Plus Rear Derailleur (Shimano don't do XTR in 11 speed setups) and Shimano XTR SL-M9000-I Rapidfire back shifter
Drive train : SRAM XO with a X-Sync Direct Mount 6mm Offset 11V 32 chainring. Chain XTR

Components : Race Face stem and handlebars., Chris King headset, XTR pedals
Seat post : Dropper ROCKSHOX Reverb AXS wireless control, weight 650 gms
Saddle : Brooks carbon rail C13
Total weight with pedals about 11.70 kilos
— The details concerning the older 26″ frame https://bit.ly/3ysteMk
— The details concerning the older 27.5″ frame https://bit.ly/3sYbIhL
A link to the Van Nicholas web site https://www.vannicholas.com/mountain-bikes October 2021 it looks like the Tuareg is no longer made as it's not on their site any longer