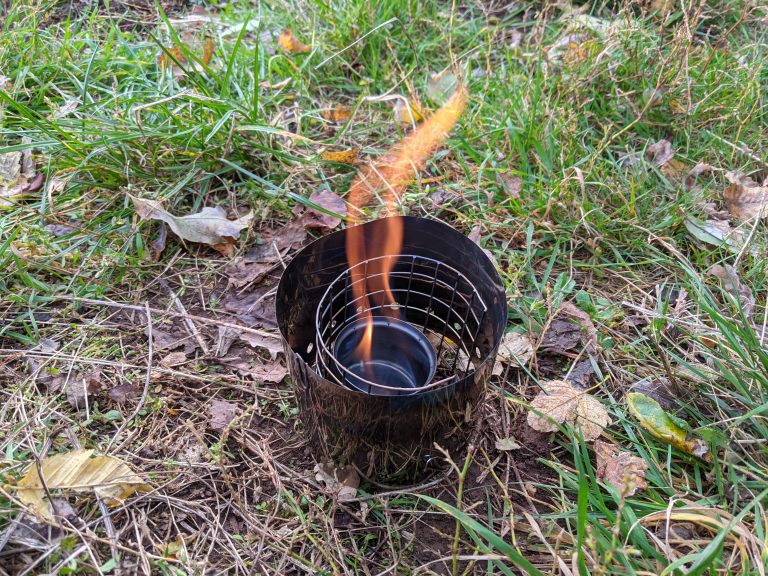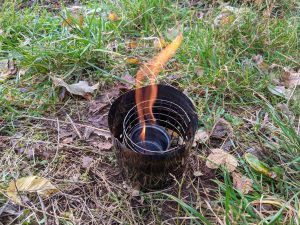 Backpacking Using Gaz or Alcohol ? I've been backpacking now since October 2019. Roughly three treks per year averaging 5 to 7 days, the longest being 12 days.
Until recently. I've always been using gaz to heat up the water. Why water ? well, when I don't have anything bought to eat. I heat up a lyophilisé food packet (dried food). Which to be honest isn't that bad and fairly tasty and with the right amount proteins, carbs etc.
My gaz setup
My gaz setup was and still is : Toaks 650 ml pot, (big enough to heat 500 mls of water), BRS3000My gaz setupT burner, Toaks windshield, small lighter and a Primus Gaz canister. Total weight 325 gms. In comparison with many 'full systems' such as MSR or Jetboil for instance these are often 200 to 400 gms more, that's a lot of surplus weight.
One day while chatting amongst FB contacts in one of my groups. I came across people talking about using alcohol instead of gaz. One of the main reasons was that it was far easier to buy alcohol than a gaz canister. And sure enough one day while still at home getting ready for a new trek I needed to buy a gaz canister. Now I live near a fairly big town but impossible to find a canister and so I understood what people were talking about.
Your on a trek, going through a small town or village, with no gaz left you are in trouble. Where as a bottle of alcohol you will find in the local supermarket. Even a small one.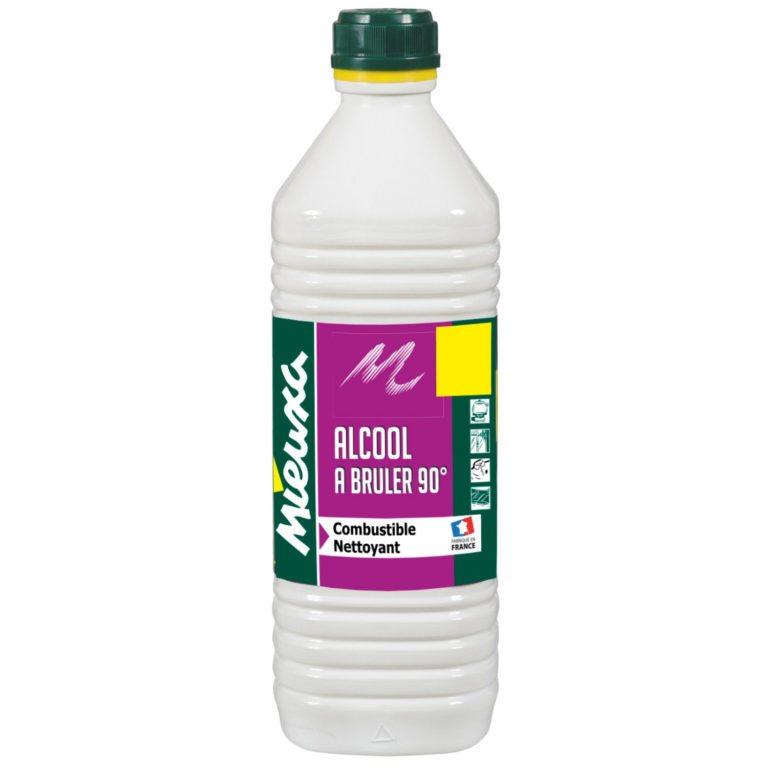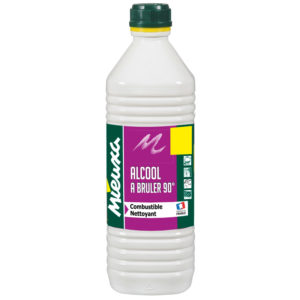 Alcool a brûler, at 2 euros the litre.
Which will last yonks
I'm not exactly sure what it's called in English, been living in France too many years ….
As usual I did a quick study and started buy some new equipment, not expensive this time.
Esbit
Firstly I bought a Esbit alcohol burner, but found that with the Ti pot stand it was far too heavy for me. 92 gms plus a titanium support for the pot, another 18 gms or so. Total 110 gms.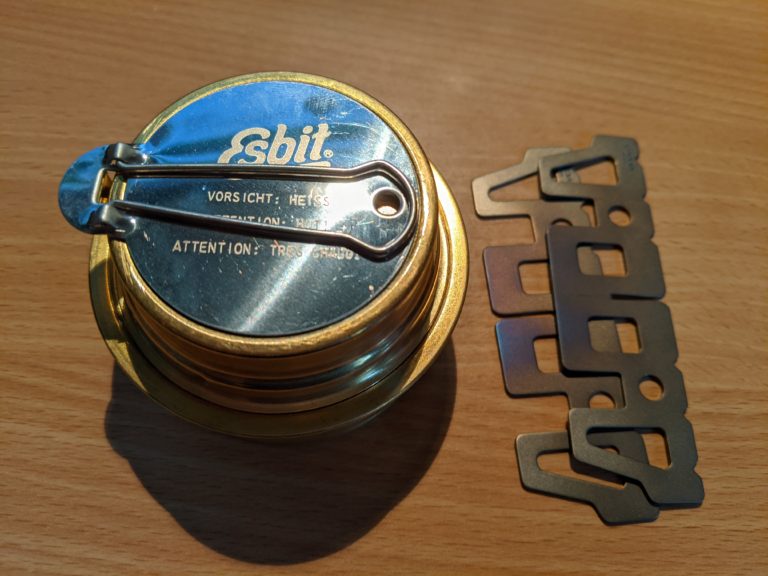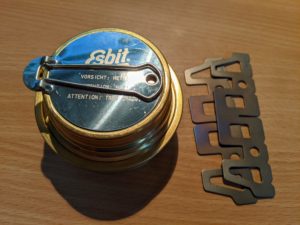 Esbit alcohol burner and a titanium support for the pot
Toaks
Then I bought a TOAKS Titanium Siphon Alcohol and its support for the pot.
37 gms in all, half the weight of the Esbit.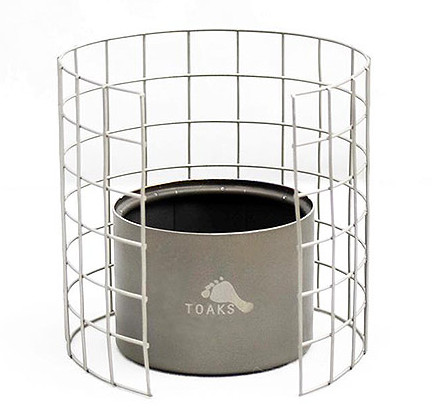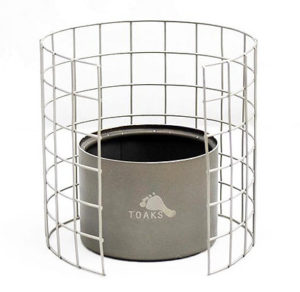 TOAKS Titanium Siphon Alcohol and its support for the pot
The Toaks is a 'dinky' model, but tried it recently on a 5 day hike, using it twice a day. It works great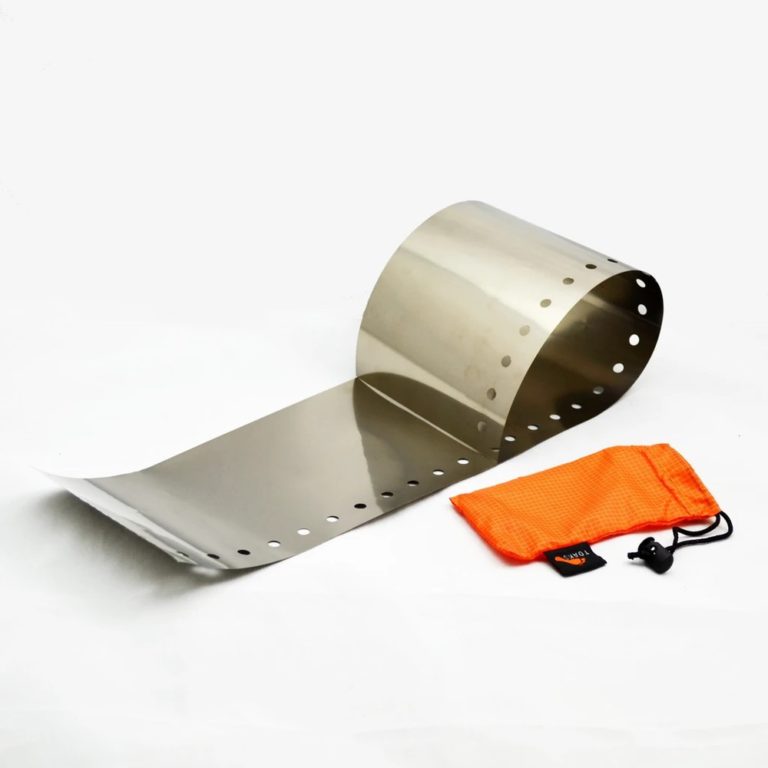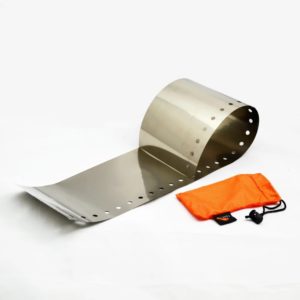 58 x 10.8 cms and only 14 gms
Using alcohol needs a windshield, though it is useful for gaz as well.
So I bought a Toaks windshield. 14 gms.
Now needed to do two things with this.
1 : It's too long and too high as it mesures 58 x 10.8 cms so with just a ordinary pair of scissors I trimmed it down to 43 x 8.5 cms .
Why 8.5 cms ? because this fits perfectly into my Toaks 650 ml pot
2 : Rub down all the edges with some metal wool, as they are sharp as razors, and you will cut yourself.
My Alcohol setup
So my new alcohol setup is : Toaks 650 ml pot, (big enough to heat 500 mls of water), Toaks siphon burner, Toaks windshield, small lighter and 60 ml of alcohol fuel. Total weight 206 gms.
I love Toaks stuff, they make some of the lightest and well made equipment around https://www.toaksoutdoor.com/
Storing the liquid alcohol
Now all you need is a bottle to store the alcohol. Attention, not any bottle. If it breaks or leaks you will spoil and ruin your equipment. There are special metal bottles, though super solid, they are also heavy.
I bought a Nalgene 60ml (2oz) bottle as this fits in the pan, but attention this will only do between 3 to 5 'heating-ups', depending on the amount of alcohol you use and depending on how much water to be heated up. So you will need a second bottle stocked in your rucksack, 60, 125, 250, 500 ml.
You can also use the bottles that smokers use to fill up electronic cigarettes . As these are solid as well.
For my last five day trek I used about 80 ml of alcohol. Coffee in the morning and or afternoon (about 15 ml of alcohol for a cup of water) and three evening meals (about 15 ml of alcohol for 350-400 ml of water)
One bad point of using alcohol is that it weighs more than gaz, when you compare the number of 'heating-ups' days. You can see in the below photos the alcohol setup is much lighter BUT will only heat for a couple of days. The gaz setup will last at least a week if not more.
Gaz
Alcohol
Taking a second 60 ml Nalgene bottle would weigh a total of 275 gms. Probably last a week.
Just a 250 ml bottle would weigh a total of 360 gms. Heavier than the gaz setup for about the same amount for heat-ups or a little less.
So Gaz or Alcohol ?
Backpacking Using Gaz or Alcohol ? So there you go, as you can see both setups are really light and simple compared to many burners and pans on the market such as MSR or Jetboil. Both setups are not expensive and work really well.
Alcohol for a short trek is the lighter option. For a trek over about a week gaz is the lighter option, but as I said at the beginning of this post finding gaz on a trek can be a problem.
I liked using alcohol as it seem more 'naturel'. You have to be careful to use just the right amount, too little, the water is not hot enough and you will have to wait until it burner is cold before adding more. Too much and you are just wasting alcohol as you can't just turn it of like the gaz. It is also slower than gaz, but finally you're not in a hurry when trekking, so doesn't make any difference.