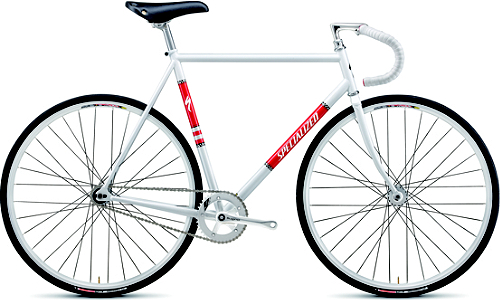 Specialized Langster Singlespeed.
Let's what it's like.
Riding a Specialized Langster Singlespeed. After years on a MTB, I'm trying a Singlespeed bike. With only one gear, that's going to be fun.
I was in London in September 2010. I was surprised by the number of bikes on the roads. Especially singlespeeds. They were everywhere far more than in Paris. So clean. So simplistic.
I've have been riding mountain bikes for the last 20 years or so. Hopefully be riding them for more years to come (I'll be 53 in December 2010). So singlespeeds are really very different to me.
But those bikes with skinny wheels. No suspension. No gears. So different. So "oldy woldy". Also I had read that singlepeed riding is great for strengthening thigh muscles. Even more so than MTB riding. Another reason to buy one.
Specialized Langster
I had seen a Specialized Langster in a CycleSurgery shop in London which I found cheapish, and rather sexy. Once back in Paris I found the same bike in a local shop. So I popped in and bought one.
Size 54cm white frame, red stickers, the 2011 model. I think I bought the right size, I took the 54 though I was a little unsure between the 54cm or 56cm, only time will tell. (in MTBs I ride 18-inch) I'm 1.77m tall.
Now I haven't rode a road bike in over 35 years, and even then it had gears. So I had no idea what I was getting into or what would it would be like.
The Langster is kitted out with a 42 tooth front chainring and a 16 tooth cog. As soon as I got the bike home. I fitted some Time Atac pedals (MTB version as use them on my MTB bikes) that I had lying around and went out for my first ride.
Singlespeed – MTB
Oh boy, was it weird. The position on the bike is so different, very small drop racing handlebars (they are like half the width of my carbon handlebars on my MTB bikes) with the brakes on the top and in the middle near the stem, oh how strange it felt, also you feel all the deformations in the road, the bumps, the holes, gravel etc. I had forgotten what it was like. I'm used to a front suspension fork. I was unable to lift the wheel of the ground to go up a kerb or such. The position being so different.
Hills
I was quite worried about not being able to ride up hills with only one gear. Finally riding out of my village the first small hill wasn't a problem. So I went to see friend, 13 kms away, a couple of hills, though nothing really big and all went well. 26 kms later and, feeling quite chuffed I arrived back home. It'll take time to get used to the brakes. The different frame format and of course only 1 gear.
A flip-flop wheel
The back wheel actually has two cogs. One on either side (a flip-flop wheel). One a free wheel on the chain side when buying the bike and the other side is a fixed wheel.
The fixed cog means that the pedals turns all the time and you cannot freewheel, this option I saw many riders using in London with only a front brake and some with no brakes at all. Just back pedalling to stop them. This, I'm not ready to try yet, as I'm not that good at biking, or rather not that crazy. So for the moment I'll stick to the free wheel option.
Lets get some riding done
So first ride, to a friend's house there a back about 30km, not to bad, and a real change from my MTBing. Will add more thoughts when I take out the bike again. It will take some time to get used to the frame. It's riding position. And of course having only one gear.
A second ride yesterday to another biking to a friend's house. Out in the country, a 28km return ride, no problems, a couple of small hills, again no problems. About 225m 'dénivilé' ascent in English .
Whoops had to walk uphill
This morning (Friday) a home to work ride. 20km in total each way. One major hill starting from a 90° turn. So no way of getting speed to get up it. So the first 50 meters I had to walk up it. but I knew this would be so, as it's a 17% ascent for the first 50 metres, after that the rest was OK .
Went home by a slightly longer route, 10km with a friend trying to follow on his MTB. He's fitter and younger than me, but couldn't keep up with me, with the 27in skinny wheels. This bike flies along.
So 3 days with the bike, 100km so far, quite pleased with it. Now for a break. I have a weekend of biking on my Rocky Mountain MTB organised 🙂
Quick. Back on the MTB
This Sunday did a 60 kms MTB ride, near my home. Boy did it feel weird for the first couple of kms. The handlebars felt SO large. They are only 620 mm but in comparison with the Langster that's huge. Everything just felt different. but so good. I love suspension …. and off-road riding.
Yet another 30km tonight on the Single, Monday, 30km in 1h6mins on the country roads around my village. Was really good.
Anyway won't have much time this week as away for the next three weekends. I've got the Gamel Trophy and Le Roc d'Azur coming up, two of the best MTB events of the year.
Update :
Have ordered some Shimano 105 BR5600 calipers to replace the Tektro ones. Will add details when received and put on the bike. Update : brakes arrived and fitted, better than the original ones. Still not what I'd like. I need to re-adjust them and let the pads bed in.
I am slowly getting used to the small handlebars. Changed the saddle from a Brooks copy to a SDG 'Bel Air RL' smaller and sexier and just as comfortable. I going to change the brakes. They are pretty crap. I'm used to real stopping power with my XTR disc brakes. So I will upgrade these soon.
Now I know why there are no quick releases on singlespeed back wheels.
Managed another two rides done this week. To work and back. 42 kms each time. Last week's hill that I couldn't get up, did it this time. Though at about 3 kms an hour …, and then the next time I tried it I actually managed to dislodge the back wheel. Luckily I had two 15 mm spanners and so re-tightened and centered the wheel and tightened the nuts more.
Love the ride, it flies on flat roads, and the same rides are getting quicker each time. I'm getting used to the feel of it. But I'm still unable or rather not trying to lift the wheels to jump up a kerb or such, need more time with it.
Update :
Have ordered a Profile Design Airwing Base Bar + Profile Design Quick Stop 2 Brake Levers, want to play with different set-ups. I should receive them in a week or so.
I went for a test ride in the fixed wheel position
Oh boy is this weird. Just starting with the pedals always turning puts you off, coming out of my lane onto the road it goes down hill. Scared the shit out me. Being fixed to pedals that forces your legs to turn all the time. I jumped on the brakes to slow myself down (my heart at the same time), levelling of gave me some time to ride a little slower and suss out what to do.
Over 15 years in the saddle with a free wheel then riding a fixed wheel….
Just so weird. So anyway tried slowing the bike down using my legs rather than the brakes. You can't pedal backwards as many seem to think. You actually 'fight' the forward action using your thighs. So so strange. I managed a 5km trip But arrived home with my thighs feeling ready to burst …
To be honest this is not for me or at least not yet, I'm to used to be able to stop pedalling or pedalling backwards when resting my legs.
Back to a freewheel back cog
Sunday 25th : Rode a 38km ride around my village, with over 425m dénevilé managed to ride with some roadies and leave them behind. Great ride. The singlespeed is great. Hard on the legs but every ride just seems to get better end easier.
For info I have noticed that my average speed on the flat is around the 30km per hour mark, more than that and I'm just spinning to fast. This is a fairly easy speed and not tiring.
TIP :
I wanted to adjust the chain tension : I wasn't sure how to get the chain tension right but found / read a quite clever tip. I rolled up an old towel and placed it between the tire and the back downward stem, turning the wheel gets the towel trapped and pushes the wheel back. worked just fine.
Update :
November 2010 : Adding new handlebars and brakes : Profile design quick stop brake levers and a Profile design Airwing base bar : Oh so much better, more comfortable for riding with a far better position. The brake levers are better than the original one and so with the Shimano 105 calipers have good braking at last. Also very important I gained about 440 grams in changing the bars as the original ones weigh in at over 660 grams and the new one only 230 grams
Two rides this weekend Saturday 20/11/2010 68 km with over 740 m 'dénivelé' (positive / negative), and Sunday 52 kms with 671 m ' dénevilé' but in the rain, no sun today. 120 kms in two days not bad. Legs are feeling good 🙂
Two more rides this weekend
Two more rides this weekend, only 30 kms Saturday. Dad two punctures, the second one due to not finding the thorn in the tyre. Took time to fix them, I'd forgotten how to use tyre spoons especially on road tyres, I've been around tubeless MTB tyres for so long, they rarely puncture and you don't need tools.
Sunday 60 kms with friends that are both 10 and 15 years younger than me, both are 10 kilos less than me, both on road bikes with gears and minus 4° outside, a good but cold ride. It goes to show that a SS can be ridden over fairly long distances as a road bike, a great and fun alternative.
A new singlespeed, already ?
I've started buying the parts for a new singlespeed that I'm going to build from scratch. I'm happy with the Langster but I want a different frame and better parts. It won't make me a better cyclist this I know from experience. But its fun building up a bike, piece by piece : the details can be found here https://bit.ly/3jwpYeG
Hand built Mavic Open Pro rims with Goldtec track hubs and ACI Alpina spokes
December 2010 : Have been added to the bike. I've put a hold on the new singlespeed while building the new Tuareg MTB. So for the moment I'm fitting these to the Langster. They are far more sexy that the original wheels, having a better braking area, better rims and better hubs. I had them made up choosing the rims, spokes and hubs myself. Also they are far lighter. The front wheel is 979 gms instead of 1049 gms and the back wheel 1002 gms instead of 1183 gms, in other words 251 gms lighter, that's a lot of weight shaved off ! Have now done two rides, each 50km, the wheels feel more confortable.
Update : January 16th 2011 : Two weeks into the new year and things are going good, with all the snow and rain that we had, MTBing is sadly still of the menu until the paths gets less muddy, so the Langster has been out most weekends, I've done five rides so far the longest being 85km, 323km total so far, that means an average of 64.6km per ride, legs are going to be good this year 🙂
Also I've changed the handlebars and brakes again, the profile bars were to long, making me reach to far, so I cut down the original bars and turned them upside down, as I couldn't fit the Profile brakes I installed the original Tektro brakes until I can find some better ones.

Update :
Since March 2011, I'm now riding the Pompino singlespeed https://bit.ly/3jwpYeG The Langster I'm going to sell.
Riding a Specialized Langster Singlespeed. In all I rode over 1380 Kms on this bike and through a period of about six months and I must admit though hard I enjoyed it.