Its time to build a new bike and replace the Langster singlespeed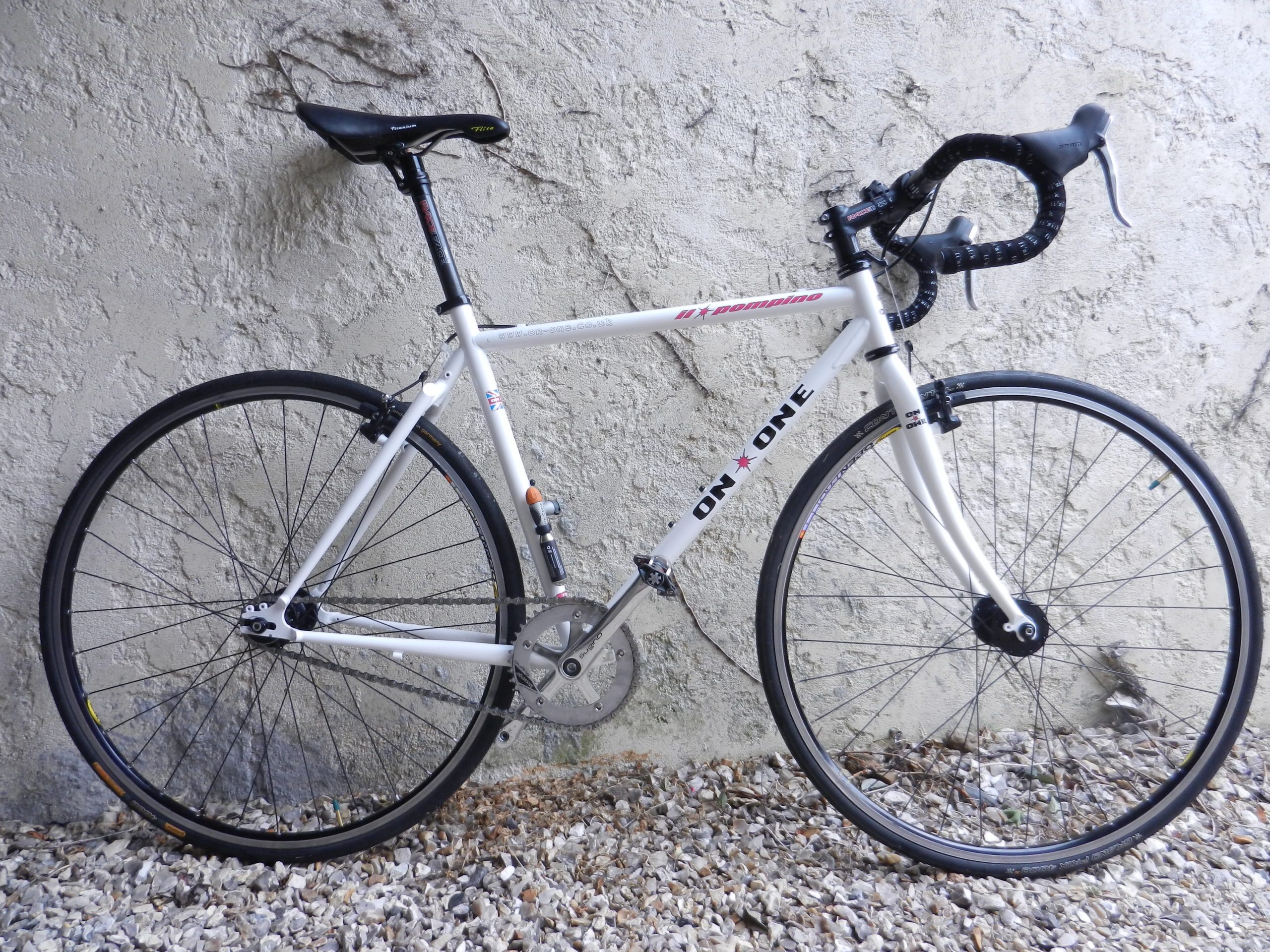 Riding a On One Pompino Singlespeed : It's time to change from my Langster singlespeed https://bit.ly/3vODtuM that I've been riding for the last eight months or so. Either riding to and fro to work or riding the country lanes around the village where I live. (This post is updated April 2023)
Many rides and a little over 1380 kms on the Specialized Langster. I like the simplicity of this singlespeed. Especially as I'm used to my fully equipped MTB. This is just the opposite. Nothing to do except oil the chain from time to time.
In the winter season I ride less than usual. I'll be 65 at the end of 2022. Age make me lazy. Especially when its wet, cold or windy for instance.  So jumping on the singlespeed is easier than riding mountain bikes especially when I get home, a quick rince and the bike's ready again. With a MTB. I have to wash of the mud including myself,  re grease everything. All that takes a little longer.
Time to build a new singlespeed
I'm now starting to build up my next Singlespeed from scratch. it's what I've done on most of my MTBs so it should be easy. Except I'm not used to road components, the makes, the models. I'm used to Shimano XTR, XT for example. These components don't exist on Singlespeed bikes.
I've spent and spending a lot of time on singlespeed forums, certain are really active, such as https://www.lfgss.com/microcosms/509/ getting advice and reading up on what to buy. Just learning.
Frame & forks :

What I don't like in the Langster Singlespeed world is the frame looks, the "anti sloping", track style is just something that is not my style. A straight frame is Ok. BUT I want a normal sloping frame. I've been around MTBs to long. I've found a frame and fork called Pompino on the One One site. It's a little on the heavy side but its cheap and quite sexy. Strange thing about it that it takes old school cantilever V style brakes. 
Bits & pieces :
Wheels : Mavic Open Pro rims with Goldtec track hubs and ACI Alpina spokes, all black. They were built by a wheel builder Arup Sen @WheelBuilding. The most expensive add on. (almost 15 years later, and still running straight and true)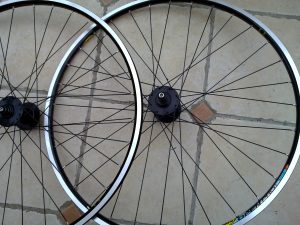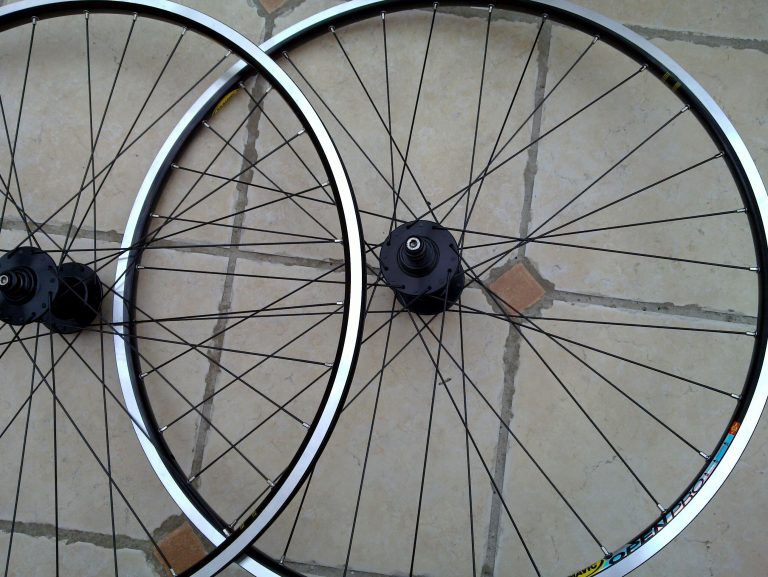 Ahead set : Cane Creek.
Handlebars : A Rotundo Pro 3T.
Stem : Race Face Deus
Seat Post : Race Face Next SL : 300mm long, carbon version
Saddle : Selle Italia Flite with Ti rails. Brakes : Avid Shorty 4
Brakes levers : Sram, they work with the brakes work nicely.
BB and Cranks : For the moment I'm running the cranks from the Langster
Freewheel : For the moment, the standard one that was on the Langster
Pedals : Time Atac carbon.
The bike weighs in at 9.70 kilos including pedals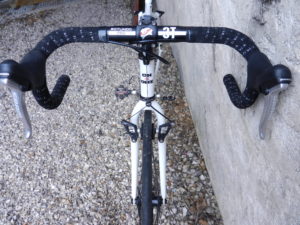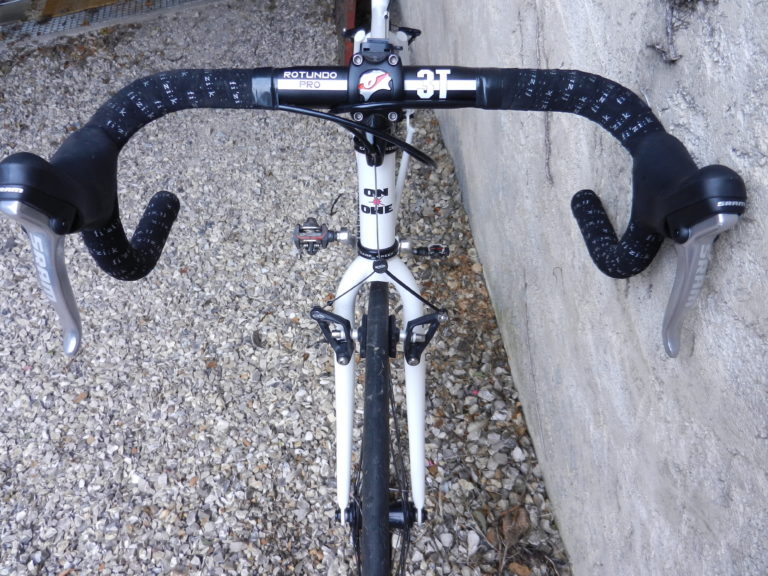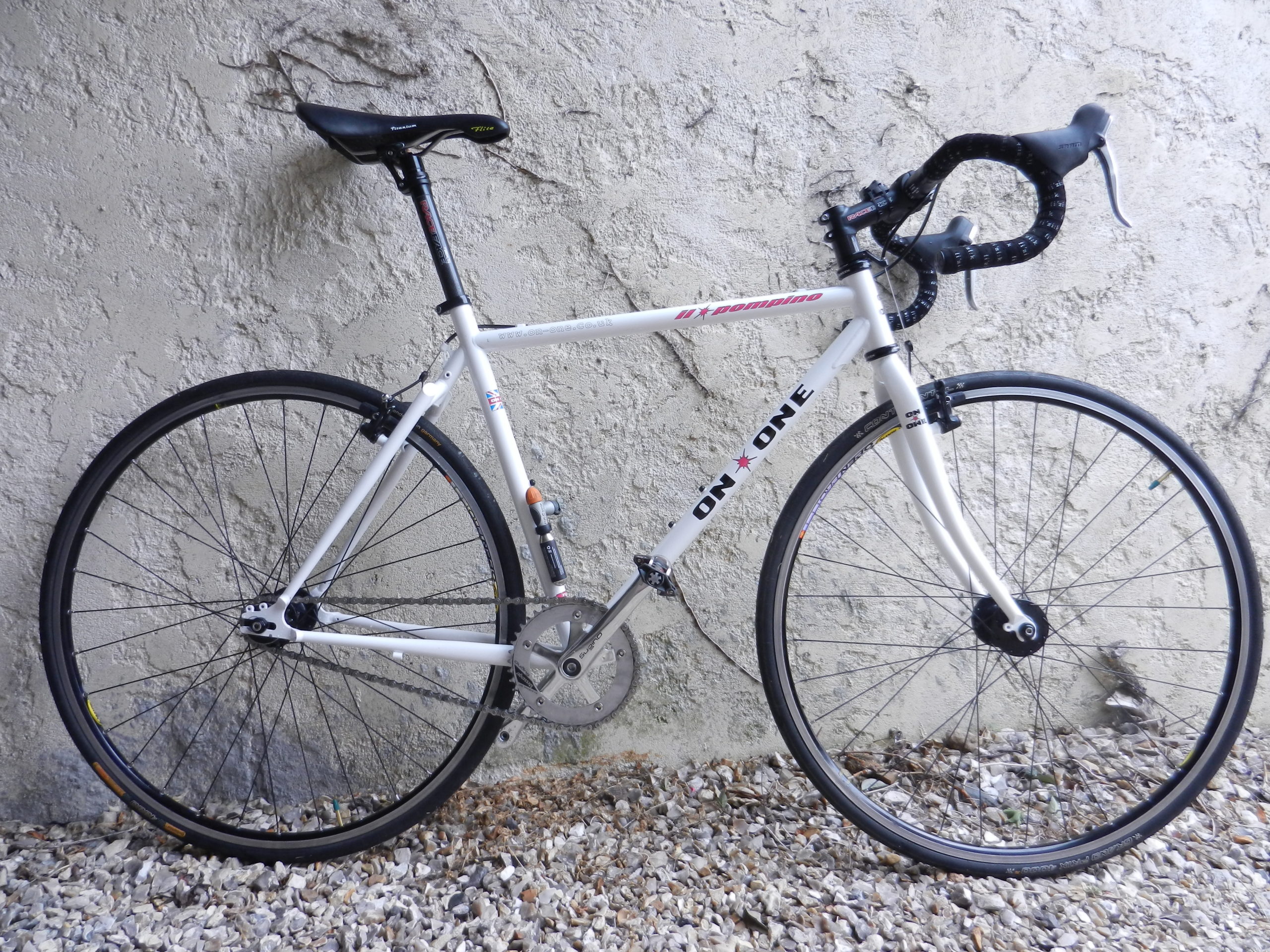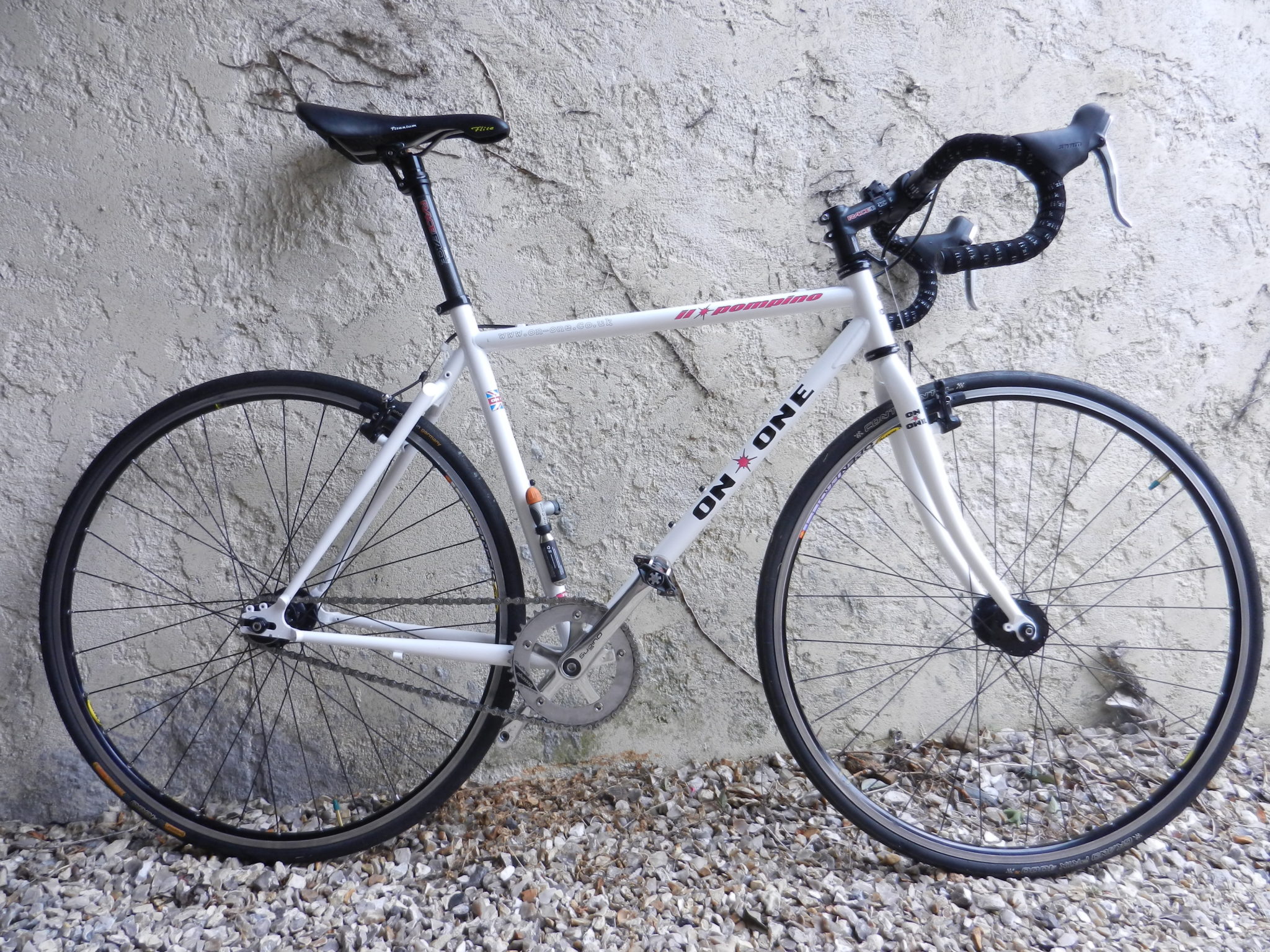 Update November 2011 : I've now done over 1260 kms in less than 8 months with this bike. The first ride was in March 2011. I've changed nothing, a couple of long rides of over 90 kms in one go with it, it's just fine, its fun what you can do with a singlespeed 🙂
Riding a On One Pompino singlespeed : I really do prefer the frame and the looks over the Lansgster singlespeed.
Update 2012
I sold the Pompino to re buy it. The latest version V4.
Again from https://www.planetx.co.uk/ also I went from a medium frame the large size. I found it slightly better to my size being 1.77m Rather than white now have the Grey version
I recuperated all the parts from the old frame except I changed the chain and chain ring for a new one, Stronglight 44T and the pedals are now XTR as on my MTB and my Gravel also a nice Brooks C15 carved saddle.
The ride is the same as before though a tad more stable as it's bigger or rather longer. I mostly ride on my own these days as most of my biking friends have moved on, or moved away. I'm still riding anything from 50k to 100k rides.
100 kms ride on a singlespeed. Easy….
100 kilometres on a singlespeed bike. Especially with over 800 meters ascent. It's quite hard and tiring but nothing really too complicated. I'm pleased with my legs and health as obviously it's far harder than a standard road bike (no gears…). I've done quite a few 100 kms ride on the singlespeed, tiring but good.
https://connect.garmin.com/modern/activity/embed/124780383
12 years on. 2023
We are now in 2023 and I'm still riding this bike. Have changed almost nothing except the freewheel that is now a White Industries ENO 17T Freewheel (expensive , beautiful but far smoother than the Shimano one). Also replaced the chain ring and chain as it was worn, again a Stronglight 44T.
Most of my rides are minimum 50 kms to 70 kms. This distance is a standard ride for me. Even now at 65 years old (in 2023) it's still easy going