2008 : At last after weeks of waiting all the pieces have been received and added, I'm ready to build my Rocky Mountain Element 70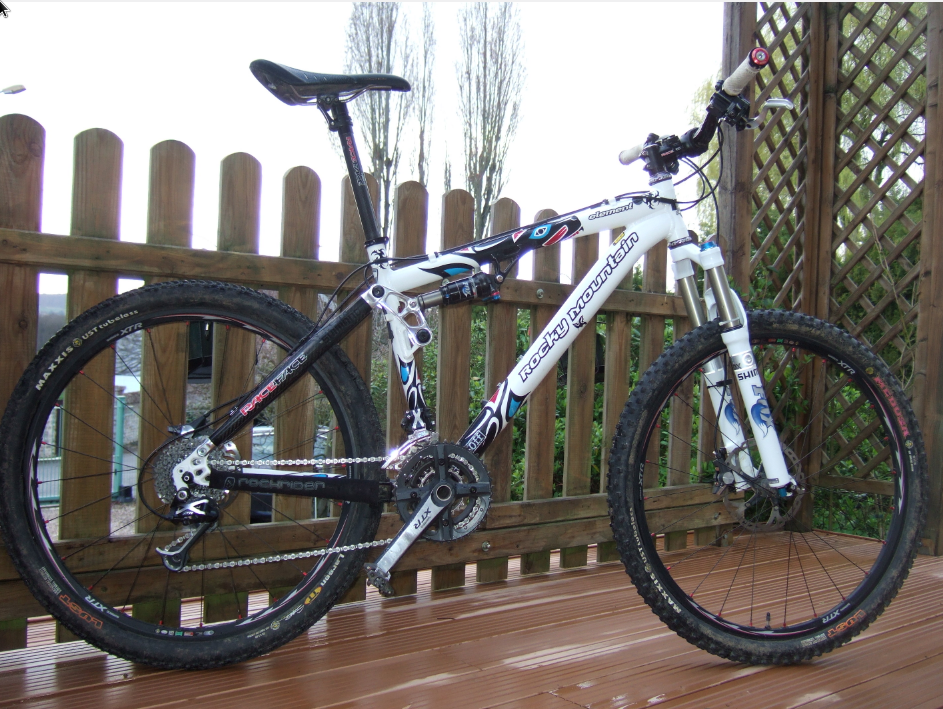 This is for me at least the best full suspension MTB bike around. I have built it up from scratch putting about the best parts available on it. It rides like a dream, it handles really well, even downhill is just great.
My build details
Frame : Rocky Mountain Element 70 version 'Tribal' 18″
Forks : Fox 32 RLC 100mm
Front Derailleur : Shimano XTR, Rear Derailleur : Shimano XTR
Shifters & Levers : Shimano XTR Dual control
Bottom Bracket & Chainset : Shimano XTR
Headset : Chris King
Stem : Race Face Deus 90mm XC, Handlebars : Race Face Next 630mm XC carbon
Seatpost : Race Face Next SL XC carbon
Front Brake : Shimano XTR 180mm Disc, Rear Brake : Shimano XTR 160mm Disc
Wheels : Shimano XTR Wheelset 2008
Saddle : Fizik Gobi, Pedals : Time Atac carbon
Weight : 12 Kilos
Update 2009
Nothing changed as this is really the "bee's knees". It's a brilliant ride. It's perfect for XC riding which I prefer. Everything is just right with the bike 🙂
I have tried many other bikes, none handle and feel like this one
For the moment I'm running Maxxis Ignitor USB 2.10 for the front tyre and Maxxis Larsen TT USB 2.10 at the back, am testing the Maxxis Crosmark on the Lapierre as the front tyre and will see which I shall use this summer season
Update, changing the bearings
After 18 months riding I decided to change the bearings on the pivots. There are 6 bearings to be changed. I basically did this for fun but later realised that it had to be done as one was dead and others were damaged. Note that I never use a power washer to wash the bike just a garden hose.
2 * Rockey's reference 6901RS
4 * Rocky's reference 6001LB
I ordered the replacements from http://www.bocabearings.com
To change the bearings its quite easy but you need the tools to take of the pedal set to get to the bottom bearings
To take out the bearings you need to dismantle all of the back section so that you can lay flat the pieces (very important, other wise bye bye frame ….). Firstly to 'wallop" out the old bearings and secondly to place the new ones. I used a flat piece of iron with a heavy rubber mallet to get them in, attention they must be laying flat again , and finally to sink them in completely. I used a socket set that was that same diameter as the bearings so that I didn't damage them, you most not hit the rubber part
When you take the bolts out to dismantle the bike be careful that you don't lose the conical washers and be careful when you put them back later that they go back on the right way (smaller side to the bearing)
All in all this was not to difficult. It took me an afternoon, about 4 of the bearings out of 6 were used with one completely dead. So it had to be done. The bearings cost me about 100 dollars so not to expensive, and while I had the pedal set off I changed it for a new one as it was becoming worn and of course changed the chain, cassette, dérailleur and all cables as well
Update, changing the Igus bearings
Have just changed the Igus bearings which I had a hard time getting. They are easy to change and though I found them in France eventually the easiest place to get them would have been from http://www.radsportkimmerle.de/ It's a Germain site but they speak English and have load of info photos for Rocky bikes and spare parts.
Creaking brakes
I have to take the bike back to the shop as I have a creaking sound coming from the bike when applying the brakes and it seems to come from the carbon back stay. Update : the creaking sound was caused by the back XTR brake. I changed brakes and no sound. I then placed the brake on my second bike. It started creaking as well, strange, how a brake can make a frame creak and why I do not know. The brake is now lying around in the garage I replaced it with a new one. All is well again.
Update December 2010 : Its been snowing here a lot. I actually managed to get out for a couple of hours in 15 – 25cm of snow. It was hard work but super fun.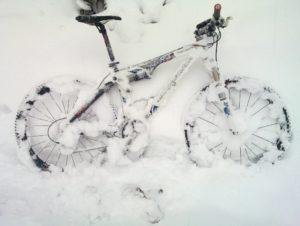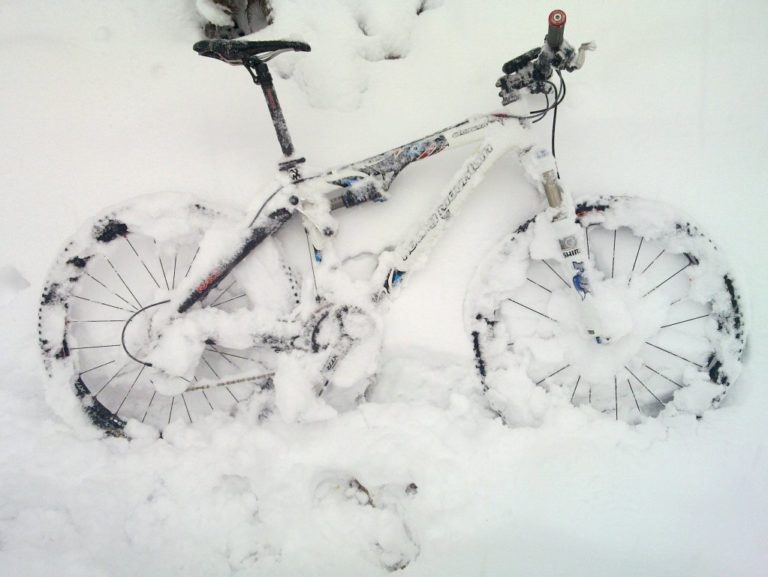 Update February 2011 : Except for the saddle, I'm now using a Selle Italia SLR. Nothing has been changed on this bike, most of my MTB rides are done on it, though I have a feeling that I might be using more the Van Nicholas this year, but this has to be seen. The bike is still as good as when I first set it up, almost three years now. I've never kept a bike so long. It rides just the way I want it to. It weighs in at 12.15kgs, with a Maxxis Avantage front tyre and a Maxxis Ignitor back tyre because of the mud and bad winter we have had here. Once the winter finally goes away, it will be back to a Larsen at the back.
Fox Float RP23
I sent back my rear Fox Float RP23 for a service as I haven't touched it since 2008. It came back with new seals and fresh oil. The difference was unbelievable, far smoother, more responsive, which was just perfect as I went away for a 3 day MTB ride with over 185km and 4000m dénivilé, and rather tough going ground. Having a better rear suspension was just fine. The service cost me 110€.
New tyres
I've changed tires again. I'm now running Schwalbes tires (as I use them on my Van Nicholas with its ZTR Crest rims) a Rocket Run 2.10 up front and a Racing Ralph 2.10 on the back. I feel that The Rocket Run is rather fragile, as it doesn't have a DD version.
Handling is fine and I took them out for 4 days in the Drome, mostly rocks, and stones all the time, no pinches, no flats 🙂 The racing Ralph is the DD version is tougher, the only problem with this tyre is if you brake to hard, it can break loose, but normally will grip again as the sides treads are quite high, also the Racing Ralph does not like mud, it slips all over the place , so in winter it will be changed
Update September 2011, new shifters
Have just sold my XTR dual controls. A shame as they were the best shifters I have ever had, but as my other bike is now running a 2 * 10 set up I sometimes mix up when changing gears, up / down rather than push / pull. So I've ordered the same set up as the Van Nicholas, XTR shifters and Hope Tech X2 brakes, and will have them fitted in time for the Roc d'Azur 2011 early October
Update November 2011 : I've been lazy and not updated this post for a while, XTR shifters added. Hope Tech X2 brakes added (these are just brill.) am still running a 3 * 9 setup 22/32/42 – 11/32 which is just fine. I'll not go 2*10 on the Rocky as I tend to use this bike where its hilly and I need the extra gears. I miss the dual controls, but am getting used to shifters again.
I used the Rocky on this year's Roc d'Azur in October. As in the previous years, clocked over 300km in 5 trips and over 6500m ascent / descent and as usual it was just fine : )
Update September 2012 :
After many years of good service. I have just sold the Rocky. I'm now riding a Van Nicholas Titanium Taureg Hardtail https://bit.ly/2UYrxZ9