Dump the heavy, big gear to go lightweight
Lightweight Backpacking Basics. I've been trekking now for a couple of years and having done many decent and quite long treks. Here are some tips to save you some weight as I see many people making the same errors that I made at the beginning.
I went from I might call heavyweight backpacking to now what I will lightweight backpacking. Hopefully this post might be of some help
Now when I trek, I rarely carry more than 12 kilos weight and this is with 1.5l of water and at least five days of food
The story
In 2017. I thought I would do some hiking or trekking here in France where I live.
So in 2017 I'd bought some equipment. Basically, a tent, a rucksack, asleeping bag, a cooking stove, a sleeping mat, etc. I had no idea about the weight or quality of these items. I just bought what looked good to me. To be honest, all was good stuff, but most of it not very light. As you will learn by reading on.
Late 2017 I broke my left ankle while out trail running and three days later because of this accident I lost my hearing. This putting a halt to these ideas basically before they even started. Except I had already had bought some equipment.
July 2019
After losing almost one and a half years because of the broken ankle and hearing loss. I tried two different one-day hikes. They were meant to be two days hikes but just didn't make it….
Over 15+ kilos on my back, Man was it heavy.
Here was some of the equipment I had at the time and tried out :
Rucksack Osprey AG65
Tent Nemo Hornet 2P + Footprint
Sleeping mat Thermarest Neo Air Light
Down Pillow Thermarest
Stove JetBoil Minimo
Sleeping Bag Valandre swing 700
Water bag 3L
Spoon & Fork, Plastic, cup & plate
Frontal lamp Petzl
Sheath Knife
Pocket Tool Leatherman Ti
Torch
Lamp
Telephone
GPS
Compass
Kindle
and loads of other stuff that I've already forgotten.
As you can see, far too much to carry and far to heavy
My first hike
My first hike was 25 kms. I managed and did my very first wild camping (bivouac in French). But the next morning. I had no water left. So no breakfast or coffée for me. After walking another 10 kms and not finding any water on the way and with still 15 kms to go still to get home. I cheated and hitchhiked the last 15kms back to home.
A month later. I tried my second hike. I walked further than I had expected. 35 kms to a campsite. So this time water wasn't a problem. But the next morning blisters on my feet meant that I grabbed a taxi to go home as couldn't walk. My feet were killing me. Since then I have changed and bought better walking shoes.
Time to read up a little more and learn
So after these two rather hopeless attempts. I decided I'd better read up a little more and learn more about hiking and trekking. As obviously it wasn't as easy as it seemed. I wanted to learn more as I a plan in my head for a trek that was about +220 kms long. Or rather a choice of three treks, as at that time there were three here in France that appealed to me and looked fun to do.
Three treks that interested me at that moment
GR107 Chemin des Bonhommes, Foix à Berga en Espagne (I have now done this) https://bit.ly/2YckYUb
GR367 Chemins de Cathare, Port la Nouvelle à Foix
GR70 Le Stevenson (I have now done this, but haven't written about it)
I started reading up on trekking. As usual for me, using the internet. Especially Reddit. I came across several Reddit groups noticeably one called 'Ultralight', Of course, I immediately jumped in the deep end and started asking questions. Several suggestions and many critics later (Reddit's do tend to slag you). I understood that I was carrying far too much stuff, somewhich I didn't need and more to the point many items that were far to heavy.

I was often asked to 'fill in' a LighterPack page on the web and post the results, I found out what was this was as started using it. It's just like an Excel sheet but on the web. You note everything down and I mean everything. Even the toilet paper, tooth paste and of course the weight of each and every item.
Doing this soon showed me the 'real' weight of my equipment. Oh what a surprise when you add all the weights together
Lighterpack
Here's my list at the time. It gets modified as I go along, although at this date 2019 it's mostly finished but knowing me, it will be probably changed by the time you read this post. At the beginning it was completely different.
https://lighterpack.com/r/tvvhar
I change and update LighterPack continually. So since writing this post there will be changes. New rain vest, clothes and tent ordered and arriving soon for instance
So here we are, a couple of months later, the middle of September 2019. almost a thousand Euros spent. Please don't tell my wife… I have a very decent and a much lighter setup. Thanks mainly to the Reddit questions and the answers that I received, (plus the critics and the slagging…) (Nothing nasty, just humoured slagging).
I have changed (just about everything ….) the Rucksack Osprey AG65 to a slightly smaller one and half the weight. An Osprey Exos 48 just this saved me 1 kilo. Since then I've changed it again to an AtomsPack 'The Mo' (Cottage industry in England) and also to a quilt rather than a sleeping bag.
A quilt basically only covers the top of you. Like your quilt at home on your bed. A sleeping pad is meant to keep you warm underneath. A sleeping bag actually doesn't keep you warm when compressed so the underneath part doesn't do much at all. All technical stuff. I didn't even know that until a while ago. Again lighter. Again over 600 gms saved here
2021 you can see the difference I've made in just two years
https://lighterpack.com/r/0sh5le
Tent
When I say everything, probably the only lightweight product that I got right the first time around was the Nemo Hornet 2P tent. Now this weighs about 1 kilo which is light for a tent and it's great for one person even though it says two. To be honest two would be a squeeze.
Since then I have changed the Nemo tent for a Tarptent StratoSpire1 and it's the same weight but just a better tent. It's a 3 / 4 season rather than a 2 / 3 season for the Hornet. Both weigh about 1 kilo each.
Sleeping bag or Quilt ?
Concerning the quilt and the sleeping bag, this was quite a change.
The Vesper 20 quilt has a comfort zone temp of 0°C.
The 'Valandre swing 700' is -5°C
A big difference if it's cold.

The problem with the Valandre sleeping bag was, the weight, as it weighs 1241 gms and is almost twice the size (even when compressed) The Vesper only weighs 615 gms.
In 2021, I sold the Valandre, and bought another quilt. A Cumulus model 450 + 50 gms of extra down. The Vespar was not quite warm enough in cold weather, it's 850 gms, It's heavier than the Vesper but warmer, its between the Vesper and the Valandre size when compressed. In warmer weather the Vesper is great and when colder the Cumulus is perfect. I no longer use a sleeping bag, quilts are perfect.
In the photo, you can see the difference in size between the Valandre and the Vesper, in a rucksack the difference is enormous.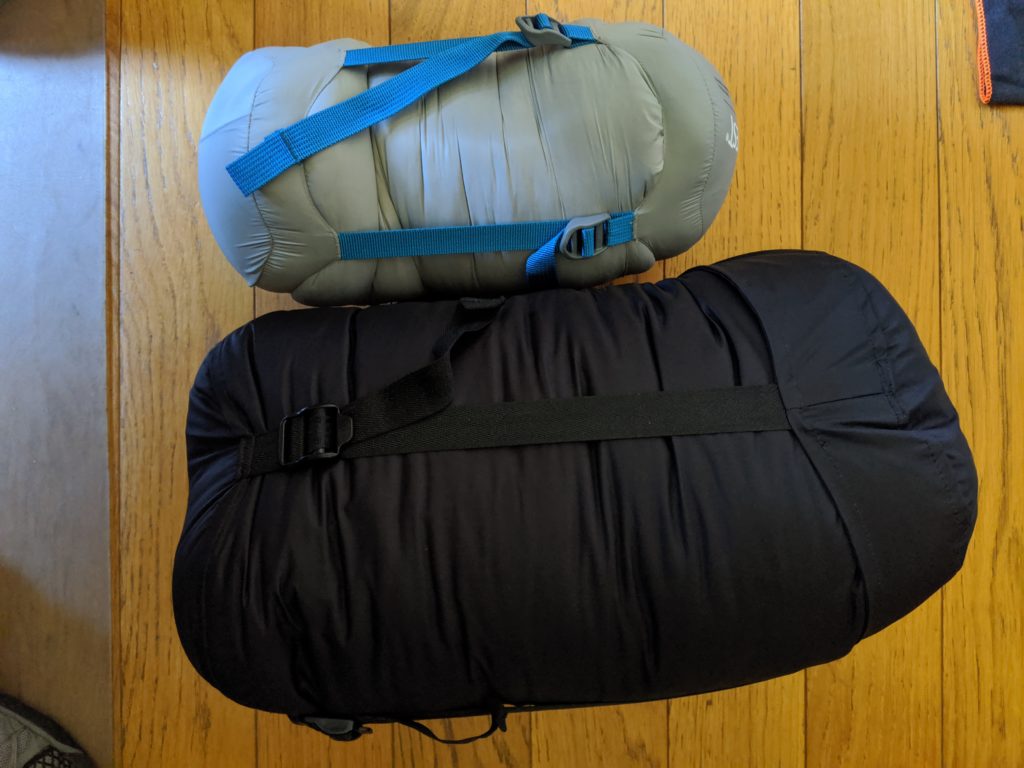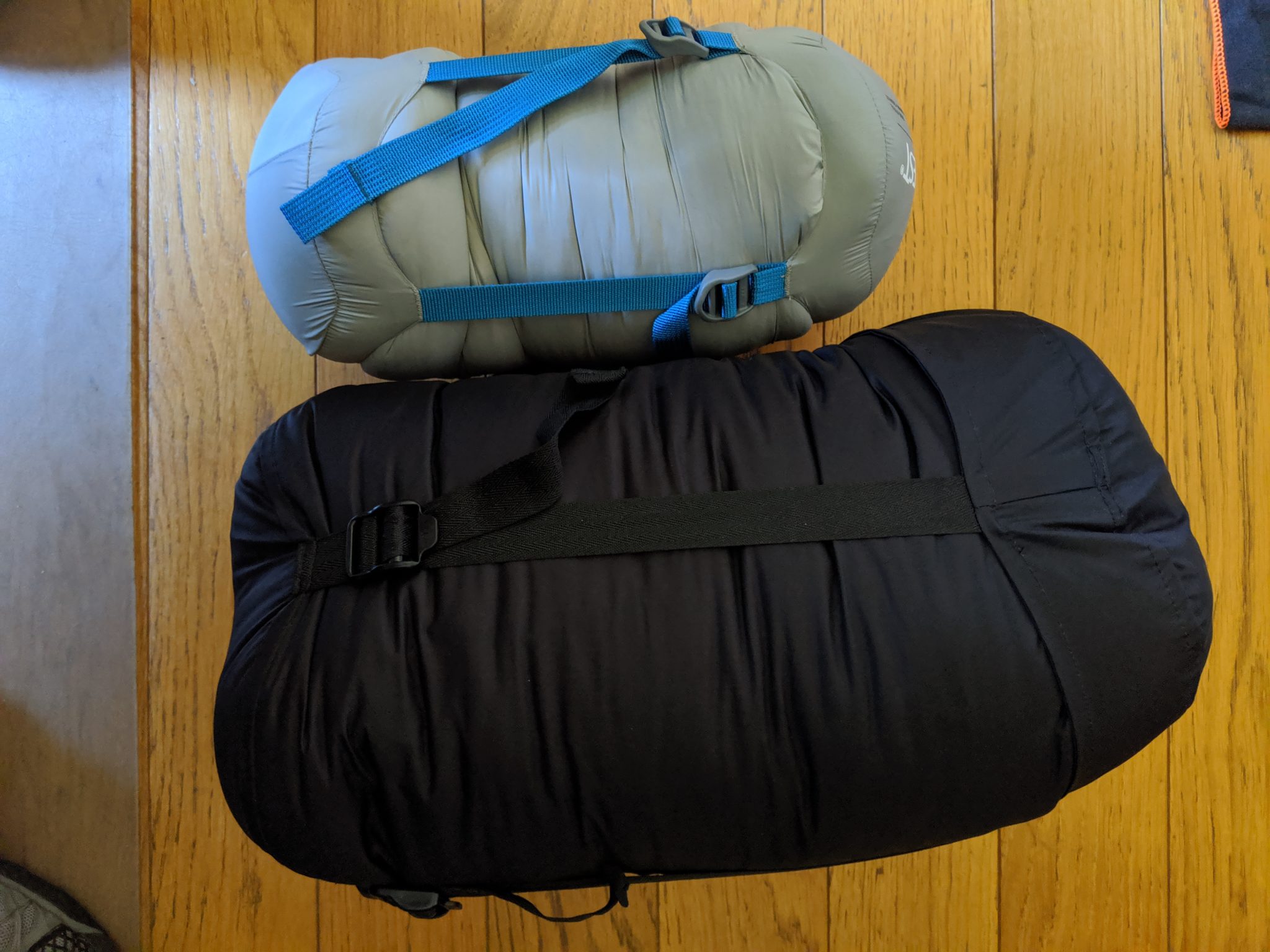 Cooking equipment
Other things I changed were, for example, the cooking items. I had bought a Jetboil Stove, the model Minimo. This worked fine for my previous two outings, heating water for the lyophilisé food which I chose to eat. Just heat water and add it to the packet.
But I found out after that a Toaks 650ml pot (a titanium casserole) a super dinky small stove BRS3000T. A 200 gm gas canister and the stove fits neatly in the Toaks. All together, the gaz, stove and pot about 192 gms against 415 gms for the Jetboil . Again smaller as well. Just as easy to use and setup. For heating water its perfect. Over 200 gms saved here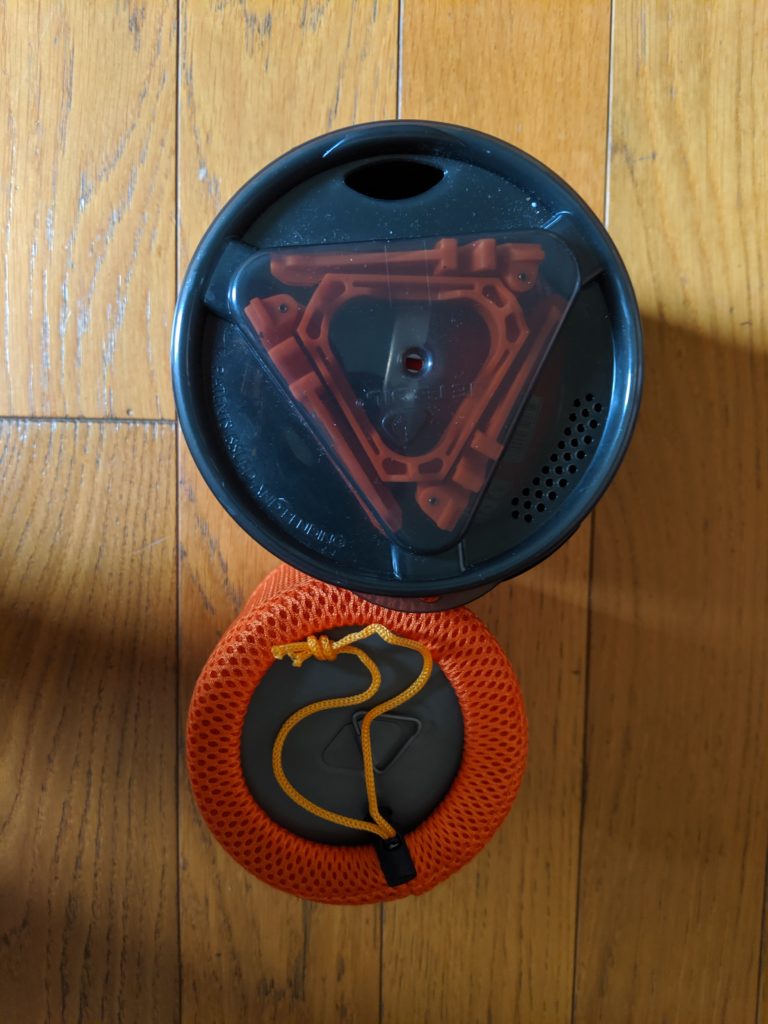 In the pan, you can store the gas, the BRS3000T stove, a small Bic lighter and I even added a Esbit Ti mini solid fuel stove with some solid fuel tablets and even a Ti wind shield cut down to fit in the pot, (the Esbit is just in case I run out of gaz)
I changed my Frontal lamp. from a Pretzl Reactik+ weighing 110 gms, to a Nitecore-nu20-rechargeable only 52 gms. Just as good, basically only need it for reading in 'bed' or going to the loo in the middle of the night etc. Half the weight & size as can be seen in the photos.
Some heavy stuff you can keep
Garmin GPS
One of the items I got slagged about every time on Reddit was my Garmin 64s, weighing in at 266 gms that I use to follow GPX traces "just use the phone", they'd all say. For me the phone is too expensive and too fragile also the battery doesn't last long enough.
The Garmin is just perfect and I love using it when out walking as it's sturdy and just hangs from my belt so that I can see at a glance where I am or what's around me. I have my GPX route planned on it, where I have planned to go, or water points so that I can fill my CamelBak or where I think I'll sleep. Camping sites or gîtes or bivouac areas so even if it's quite heavy I'm going to keep it.
I have now changed the Garmin 64s for the Garmin 66i model https://bit.ly/2WDlrOw basically the same but with Inreach capabilities for security reasons.
Get rid of useless or heavy equipment
I dropped loads of stuff thanks again to Reddit's suggestions : all were being carried for nothing.
Sheath knife, (shame it was hand made for me, its a one-of model),
Pocket Tool Leatherman Ti (changed it for a Swiss army knife S14),
Plate (I eat out of the packets or in the pot)
Torch & lamp (after all I've a frontal, so don't need three light sources) Compass (got one on phone & the Garmin)
The Kindle I changed for an ebook Boox Poke2. Half the weight and size of the Kindle
So that's about all the changes. Now my rucksack weighs under 12 kilos which is still a lot and some will say not ultralight though I believe I'm not far off. But this is with 5 days of lyophilisé food, plus water. Included in these 12 kilos of weight are the Garmin 66i, my phone (you still need a phone just in case, though it's switched of most of the time except when I need to chat with my wife) , my Rx100 camera, my ebook. 800 gms of electronic equipment in all.
October 2019
So here I am. Ready to do my real first trek. With all the new equipment and ready to do the following. Le chemin des Bonhommes October 2019 https://bit.ly/2YckYUb
October 2021
My latest Trek done on October 2021 https://bit.ly/3pt80wV with the following equipment https://lighterpack.com/r/nd11ft
Lightweight Backpacking Basics I hope that this is a helpful post if you are trying to lighten your rucksack.