Garmin GPSMAP 64s – Slippery bits of information #2. Adding free Openstreet maps to it
Garmin have their own maps that are pretty good. Sadly they are pretty expensive as well. (on my Edge 705 I had bought their Topo France 25:000 but not once did I have update. And of course their maps are for a one machine only so when I sold the 705 the map went with it) no way of transferring to my other GPS.
Openstreets maps
So this time I decided to try Openstreets maps that I was seeing on the forums. Basically its maps that are updated in real time by users like myself and maybe you .
So heres where : http://garmin.openstreetmap.nl/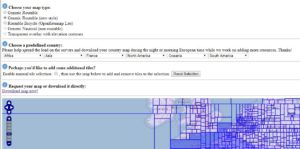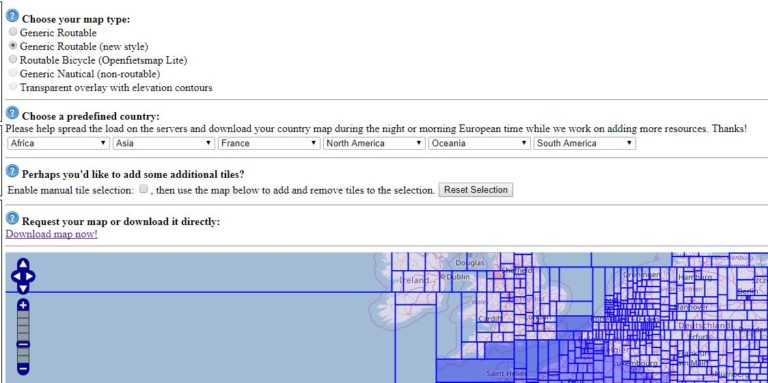 So when this link is opened you'll see this, this is the easy peasy part
Tick which style of map you want, I chose the second option 'Generic Routable (new style)' as after a couple of tests, this seems the best for me, walking, hiking etc (the third option, seems to be for those who bike.
Here's the full description Map types given by Openstreets
The map type to choose depends on your intended use for the map. Make sure the radio button for your map is selected or click the radio button to select it.


Now choose from the six pop-up what country you want to download. You can see in my example that I'm downloaded France. All of France in one go. On the 64 there's plenty of room (SD Flash needed…)
Other GPS devices ?
If you are reading this and have a smaller GPS. A Edge 520 for instance that doesn't have enough room to stock the whole map. Then you'll have to use the third section 'Perhaps you'd like to add some additional tiles?'. And choose what part of the country you need. It's fairly obvious how to do it. Just leave your email address and you will receive a link to download the part of the country that you had chosen.
Link too a site that explains far better than me for the Edge 520 installing maps
https://onemanengine.com/how-to-install-bike-maps-on-the-garmin-edge-520/
Anyway back to a download 'France' all in one go. Once chosen in the pop-up menu you then click on the Button Download Map now and it will take you to a new page.


To be honest the easiest way is to choose the 'OSM_generic_new_windows.exe', the 'osm_generic_new_windows' being the name of the map you chose to download.
What they don't really explain is that included in this .exe file is the map. Hence the size being the same as the gmapsupp.zip for instance
Basecamp
As I wanted to add this map to Garmin Basecamp (pretty useful to see the maps and check your traces) The .exe download is perfect
Once downloaded (which takes quite a while) run the .exe under admin (right-click with the mouse and run as Admin) and with Basecamp CLOSED. This will then add the map to Basecamp and after you can use Basecamp to install the map on the 64 or any other Garmin devices that allows you to install maps.
Open Basecamp (you did close it didn't you…) and now on the menu bar / maps you will see your map or maps in my case.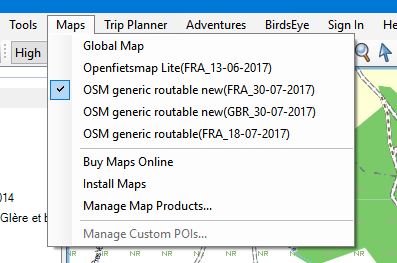 From here you can install the map on the SD flash, by choosing the line install maps. The following window will give you the choice of what maps to be installed if like me you have several. Use the personalise button to choose which map to install and also which map to be kept, or not at the same time and hit continue then install
This will install the maps on the SD Flash. I couldn't get the choice of of how to install in the internal memory
This will take a while, so go drink a coffee. When finished reboot the 64 and you should find the maps nicely installed Map/menu/setup map/select map …
If you don't use Basecamp
The other way but this will not install on Basecamp is to download the 'osm_generic_new_gmapsupp.zip' file, when downloaded dezip it and drag and drop the gmapsupp.img file to the internal drive on your 64.
So there you go. It's fairly easy to do all this. Be careful when trying many times, all the files have basically the same names. So tidy up before re downloading otherwise it gets confusing.
Openstreet update all the time their maps (unlike Garmin). So don't hesitate to do this regularly especially if you are like me and add tracks, paths, to https://www.openstreetmap.org I recently added a path that was missing in my village, its now has the latest version of the map. That's nice to see.
Garmin GPSMAP 64s Links to useful sites that I've read concerning either the 64, or Openstreets
https://openmtbmap.org/tutorials/send_maps/
2021 update
For months now the site Garmin Openstreet Nl site doesn't seem to work anymore. I always giving an error message "Sorry, due to server problems only country maps are currently available. You may need to refresh the browser cache first (CTRL-F5)" So it seems definitively broken.
So go to my page https://bit.ly/2WDlrOw concerning the Garmin 66i that I bought to replace the 64s as it contains all the updated information about Openstreet maps another way and how to download them, either to the 66i, 64s or even my Garmin Edge 530. It works just fine.