GR440 Tour de la montagne Limousine – – Randonnée autour de la montagne Limousine (Corrèze, Haute-Vienne, Creuse) 184 kms
This year 2020. My first trek was done in the Limousin. Roughly in the middle of France. It wasn't my first choice but because of the Covid19 this was the easiest for me as I could drive to the starting point and as it's a loop (boucle in French) It meant that I would finish at the same point. Not needing to take public transport.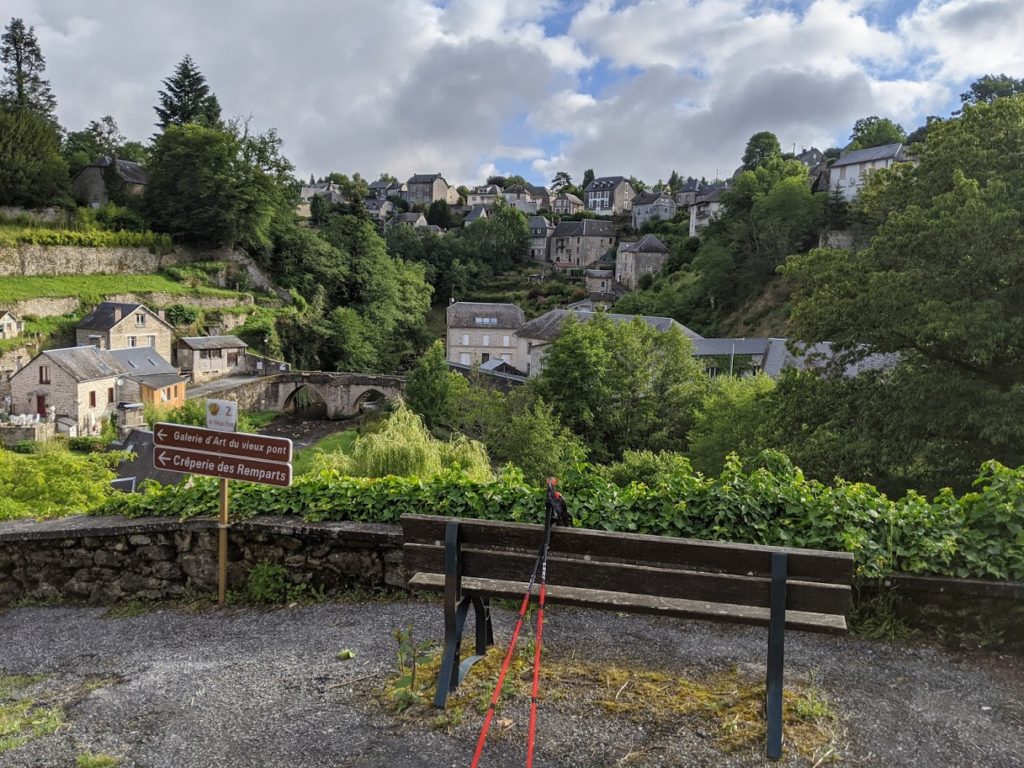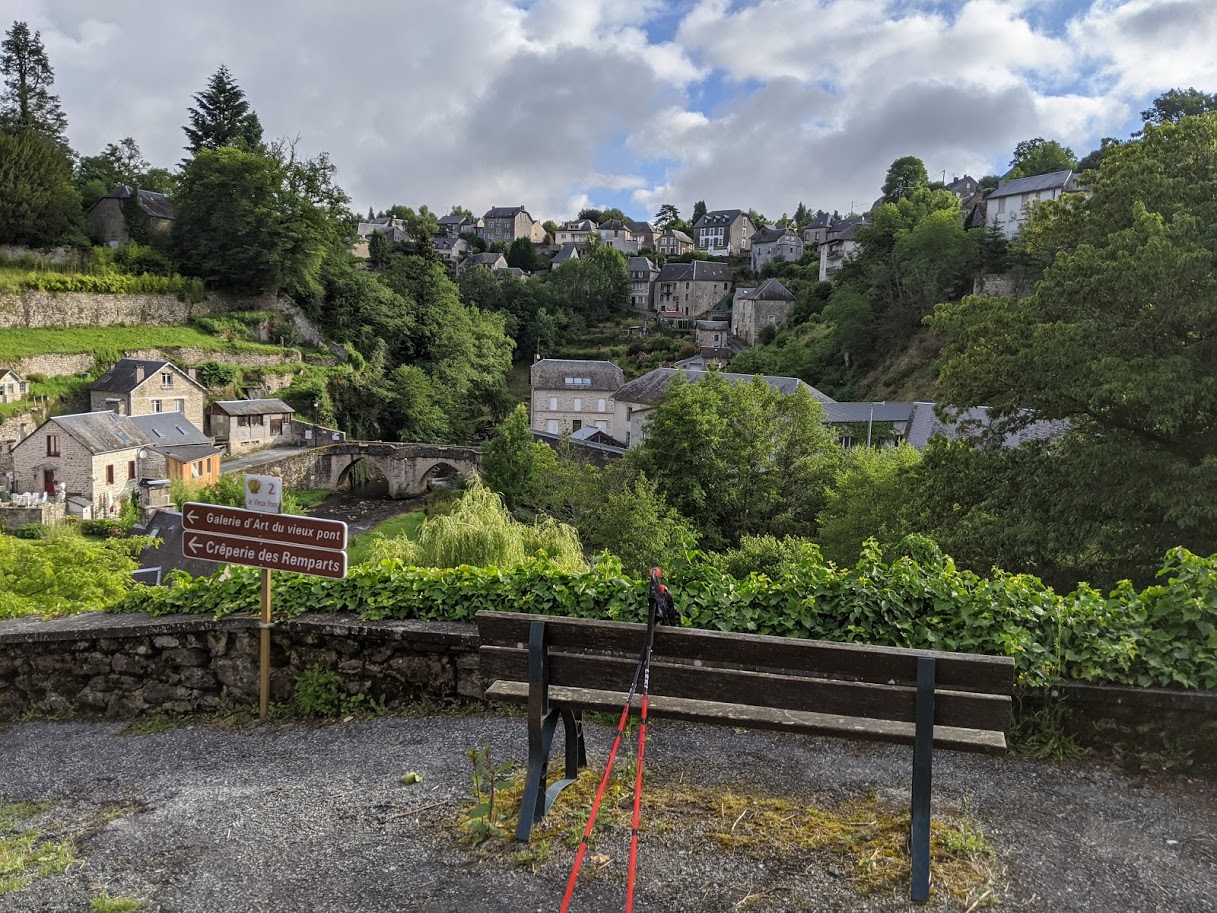 My starting point was the village of Treignac
The GR440 is about 184kms long. I had found literally nothing about it anywhere magazines or the web. Just a GPX trace
Out of the 184 kms planned I did 160 kms and then gave up not doing for me the last leg. This for a couple of reasons
The trail starts off quite nicely from the town of Treignac. Mostly paths between fields or in woods. Exactly what I like. Sadly this was about the only leg of my walk that was really nice.
Luckily I had my Garmin GPS 66i
I had mapped out the GPX trace on my brand new Garmin 66 https://bit.ly/2WDlrOw Luckily because the signposts (Balayage in French) showing which way to go at a crossing or a fork, for instance, was INEXISTENT. You cannot do this walk without either a GPX trace or a map, where you have marked the route.
I also knew that sleeping was going to be a problem on this trail, but was hoping to bivouac / wild camping. Now I still really new at that and not very relaxed about it. I often ended up most days asking at farms or houses if I could camp on the grass/field outside. All said yes. There are literally NO campings (two in all), Hotels, Gîtes on this trail.
Water and food…..
There are also no water stops, or shops either. I found one shop, and three cafés. One fountain that I would not have seen if the guy who lived next to it hadn't showed me. This at the end, was almost a problem as there was a heatwave while doing the last couple of days and I went from one or two bottles of water to six or more per day. Also there are very, very few people who live on this trail (The Limousin is one if not the most unpopulated area in France). It was quite difficult finding and asking for water. The heat and the 'tarmac' (more on that) made me choose to stop at the 160 kms mark and not do the very last stage.
Too much Tarmac
I spoke about tarmac. What I didn't like about this trail was that a lot, an awful lot of it is on very small roads. Or large gravel tracks. There is no traffic on them so that's not the problem, it's just so so boring walking for miles on a road rather than a track or a path in the forest for instance. also with the heatwave, easily over 30° everyday walking was not fun at all. So, in the end, I said to myself sod it, time to go home.
Now I did the trail quite quickly. Walking the 160 kms in only six days. To begin with I had set myself two different timings. Either 20 kms pers day so about 10 days total or 25 kms per day so about eight days in all.
What I hadn't thought about was the length of daylight (it's the middle of June). The sun not setting until 22h30, (try and sleep in a tent when it's still quite sunny and not dark. Or sitting around the tent for hours doing nothing (that is not my style). So I ended up walking a little further than I had originally previewed and some days topping the 30 kms per day.
Time to go home
On the sixth day I arrived at the village where I had planned to stay. Very hot. A little tired as a lot was road walking again. It was only 3pm.
There was actually a camping site there (the second from the start). Because of the COVID, I knew that would be no water, or showers. Also it wouldn't be able dark until 10pm at the earliest.
So I thought to myself, in 30 minutes my tent will be set up. Or I could grab a taxi back to Treignac, as it was only 24 kms away. Grab my car and drive home.
This is finally what I did. I arrived at home 10.45pm. If I'd stayed I would only just be trying to sleep in my tent.
A poor trail, could be much better.
So sadly this GR440 especially in comparison with my last's year trek, the GR107, was disappointing. Far too many tarmac/roads. The red and white painted stripes to show you the way for the GR were in many places existent, you could walk miles without seeing one. There were quite a few signs for mountain bike riding, but for walking little or none. For a GR that's meant to be known and walked, there just weren't any. For instance for the 160 kms that I walked I saw maybe 5 signposts showing GR440.
Luckily I had my brand new Garmin 66i with the trace on the screen https://bit.ly/2WDlrOw. Otherwise, I couldn't have done it. See the link higher up on this page.
Resumé
GR440 Tour de la montagne Limousine : In all, a shame. I love the Limousin. It's a region of France that I really do like. But this GR, no. It's obvious that the regional/local government doesn't care about the GR440. Very few signposts. Very few Red & White 'balisage' to indicate the correct paths to take.
When I did the GR107 Le Chemin des Bonhommes, last year, https://bit.ly/2YckYUb about 110 kms in all, I could have done it without a GPX trace, but not this GR440.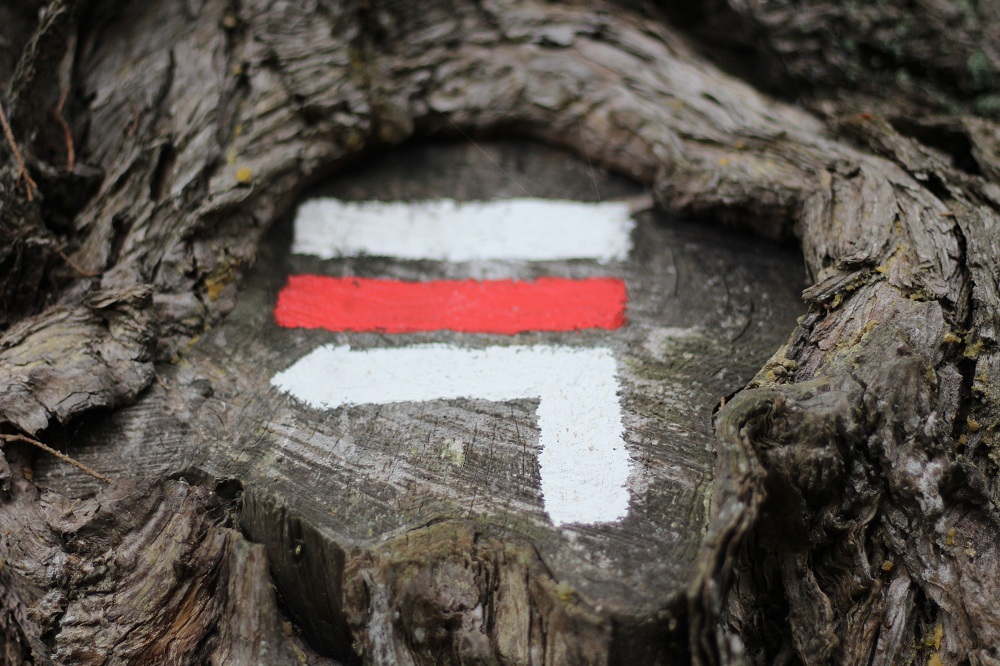 Unlike the GR107, there are no fountains on the trail, (I found one, thanks to a guy who showed me as it's hidden away and told me it was drinkable), last year's there were sometimes three or more per day, here, also no commerces, (I found one after 15 kms walking but that was it) I came across three cafés, where I could drink a coffée or a beer and quickly charge my phone. few inhabitants in the Limousin, you can walk quite a while before seeing a house or houses with people in.
In comparison with the GR107, the GR440 is a waste of time, such a shame.
I have the original GPX trace and my GPX trace as well if anyone wants it
Some details
GR440 Tour de la montagne Limousine. Why they call it the Mountain I don't know as it's not really high…….
All sleeping was done with the kind permission of owners letting me set up my tent, in their garden or field.
Day1_Treignac – Pradoux : 28kms
Day2_Pradoux – Faux la Montagne : 20kms (camping was closed because of Covid But I pitched my tent anyway)
Day3_Faux la Montagne – St Setiers : 28kms
Day4_St Setiers – Chavanac 27kms
Day5_Chavanac – La Sagne : 24kms
Day6_La Sagne – St Yrieix – le Déjalat : 25kms
Over 3100 m 'dénivelé' which isn't bad, but there's no real big hills here.
Food was all Lypholisé, (dried food), breakfast, lunch & dinner
Rucksack was an Osprey Exos 48
I carried about 14 kilos including seven days of food.
I've changed many items in my rucksack https://bit.ly/3FnGmG4, including the rucksack, you can see the latest weights here https://lighterpack.com/r/0sh5le