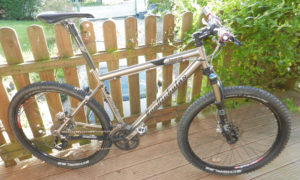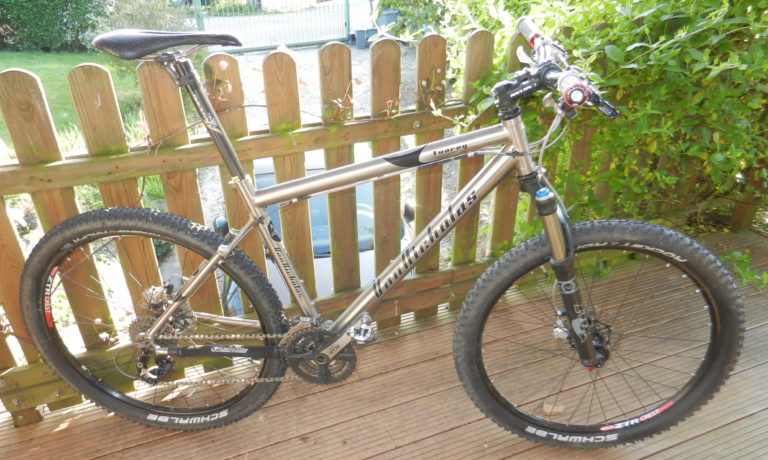 Van Nicholas Tuareg Titanium 26″ frame and building it up
UPDATE :
This frame has now been replaced by the 2013 version, a 27.5″
It's still a Van Nicholas Tuareg. It's almost identical, except it's a 27.5″ rather than a 26″ frame and better https://bit.ly/3sYbIhL

While I was at the Roc d'Azur in October 2010. I looked at a couple of titanium frames with thoughts of upgrading my Lapierre Pro Race 'hardtail' : why ?
The Lapierre pro race 300 hardtail, I'm more than happy with, but as usual I have itchy fingers to build or modify my bikes with the new year coming, and more the Lapierre than my Rocky Mountain that I have
During the Roc I had looked at a Sobre Ti frame. French, which is a very nice and not to expensive. It was about 1200€ but it's fitted for 120 mm forks. I'm running 100 mm and don't feel the need to run more than 100 mm.
I also looked some other frames such as the Skyde, but at around the 1800€ mark. This was was just to expensive.
Van Nicolas Tuareg
Van Nicholas Tuareg Titanium 26″ frame. While I was looking at the on-one.co.uk site https://www.planetx.co.uk/ as I was almost ready to order the Pompino frame as my new singlespeed, I saw a promo for a Titanium MTB frame from the company Van Nicholas. 43% reduction from about 1520 € down to 880€. Frame version 2010, that was why it was going cheap as the 2011 version was slightly different.
The model Van Nicholas Tuareg Frame was to be good to be true. A full XC frame. Almost identical sizing as my Pro Race 300. I checked with friends the name is known in the Ti bike frame building industry. Its made in China (as so many framers these days, including recently built Rocky Mountain bikes) which is a shame.
So I ordered it. If all goes well everything all except the BB and the Ahead set from the Lapierre would fit. Concerning the BB I have a brand new spare XTR lying around. So that's not a problem, the rest should be good. I will just change the stem from a 100 mm to a 90 mm as the Tuareg is a tiny bit longer and I need to buy a new Ahead set.
I'm now waiting for the delivery so that I can start working on it. This plus a new Pompino singlespeed that I building up, boy am I busy.
Update
Van Nicholas Tuareg Titanium 26″ frame : Received the frame today 07/12/2010. Boy is it nice. It's time to get it home and start work on it. Stripping the Lapierre and building it up. Nearly all XTR pieces.
I'm going to order the Van Nicholas Ti seat post today. I've ordered a Deus 90 mm stem rather than the 100 mm from the Lapierre. Now need some seriously sexy wheels to go with it rather than the Shimano XT's. Am thinking about some American Classics MTB 26 or some ZTR NoTubes Crest rims on Hope pro II hubs, but not sure yet.
I've started building up the frame
So far, XTR BB, XTR Cranks, XTR front and back Derailleur fitted, Chris King ahead set, a Hope seat clamp and a Van Nicolas Ti seat stem.

Van Nicholas Ti Seat Post , I've rarely seen a seat post as sexy as this. Weight 264 gms, diameter 31.6mm.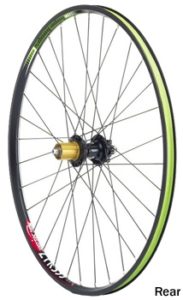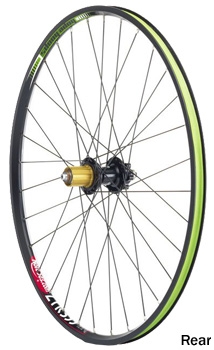 Wheels : These have arrived. I finally decided on ZTR Crest rims with Hope Pro hubs. Need to fit them with Stan's no tube tape and some tubeless ready tyres. These wheels are very light, the back weighs in at 840 gms and the front at 720  gms. 
After riding these wheels, one thing I noticed. In undoing the plastic valve cap, (I wanted to adjust the tyre pressure) the valve core stayed with the cap. 
Instant deflation, so you have to be careful with these valves, when unscrewing the valve cap. I think I'll not bothering fitting caps.
Fork
A brand new grey Fox 32 RLC Fit 100 mm has arrived. The grey version goes just perfectly with the Ti colour.
Tyres : Received the Swalbes tubeless ready tires, both fitted nice and easily, just like a tubeless tyre en a tubeless rim, both 'popped correctly' when pumping them up. Nobby Nic, tubeless ready version DD 590 gms, Racing Ralph, Tubeless ready version DD 585 gms
Update : better weather now, I changed tyres to a Rocket Ron 2.25 front and an Racing Ralph 2.25 rear, version DD, both Tubeless ready, saved even more weight with the RR front 🙂
Brakes
I've bought and fitted some serious sexy Hope Tech X2 brakes. These are really sexy, machined CNC alu, with braided hoses, instead of plastic ones. 6mm diameter rather than the standard 5mm. This actually created a slight problem, the TI frame has for me one design error. The brakes lugs are not cut, in other words you have to thread the hoses through the lugs rather than ty-rapping it. (this also means that I had to take the brakes apart to thread the hoses). Also the lugs internal diameter is 5mm.
I was unable to thread the hoses as they are to large, so I got out the Dremel, cut the lugs so that I could open them slightly and thread the hose. Both rotors are the floating Hope Saw rotors.
Now I have braided hoses that are light grey in colour and brakes that look and feel really nice, also unlike the Shimano brakes I was able to shorten the hoses without having to purge the brakes. Nice, very nice indeed.
Shifters
I've dropped the Shimano Dual Control and went back to 'normal' shifters as one day I'll go to a 10 speed set up, and Dual Controls don't work with 10 speed setups. Shame as I've used these for a long time. In fact they are still on my Rocky Mountain setup for the moment. I've fitted Hope matchmaker brackets to fit the shifters directly on the brakes. This making the handlebars less cluttered.
XTR shifters with Hope brakes matchmakers
Remark : all the threads on this frame, the BB or for fixing the back derailleur are very clean, the BB I was able the screw both sides fully in by hand. I've built a few bikes in my time, these have to be the cleanest threads that I've seen yet.
Update
11 February 2011, did a 40km ride, home to work and back again, the Van Nicholas is the same size as my Lapierre Pro Race 300, and apart from the brakes and the wheels the rest is an all XTR setup. It rode quite differently. It absorbs more vibrations than the Lapierre Alu frame. As it was the first outing on it. I took it slowly, stopping to adjust brakes, saddle height etc. But it does ride more comfortably. Will be able to test it better in the coming weeks.
Update : The Van Nicholas Ti seat clamp arrived. Even with it fitted their seat post still kept slipping while riding, and no much how I tightened it. So I changed it for a Race Face Next carbon SL, the problem went away. The seat post no longer slips down, also as I changed the saddle to a Selle Italia SLR which is lighter than the Flite. The bike now weighs in at 10.45 kgs (I'm going to send the seat post back to Van Nicholas, as I believe that it must be slightly undersized)
Apart from that all is fine. It's lighter than the Lapierre. It's fast, and at the same time more 'supple'. I'm having a little problem adapting to shifters, I've been riding Dual Controls to long …
Update
Middle of April. Between the Singlespeed and the Van Nicholas. I have clocked up over 1300 km so far. Its going to be a good year.
All off road riding has been done on the this bike (The Rocky is sitting in the garage ..) I'm riding faster and feeling better.
New pedals
I've just ordered some new pedals. New XTR M980, the Time pedals are worn and I'd like to try the new XTR's to see what they are like. Update : pedals arrived and fitted, nice. My SIDI shoes sit better on them and there is less float. I feel the difference in the back leg coming up with the pedal stroke. Clipping in is not quite as good, but this should get better as the shoes wear in to the pedals. Unclipping is fine. Going to adjust it though to make it a little harder. this is easily done with a allen key.
Going 2*10
Update 08/08/2011 : I've decided to go 2 * 10. The XTR crank set has already arrived 28/40, and the rest has been ordered. If all goes well, I can try it next weekend.
So far so good 🙂
Update : When its finished its never finished, My crank set was becoming worn and was starting to have problems with chain suck, So rather than just changing the crank set or rings I decided to go for a 2 * 10 set up, I bought a XTR 28/40 XTR crankset up, with a XTR front dérailleur, XT back dérailleur and XT Cassette 11/36 (need the big 36 to go with the 28 ring ) and some nice new XTR shifters (note : I had to take of the Hope matchmakers and the won't fit the 10 speed shifters)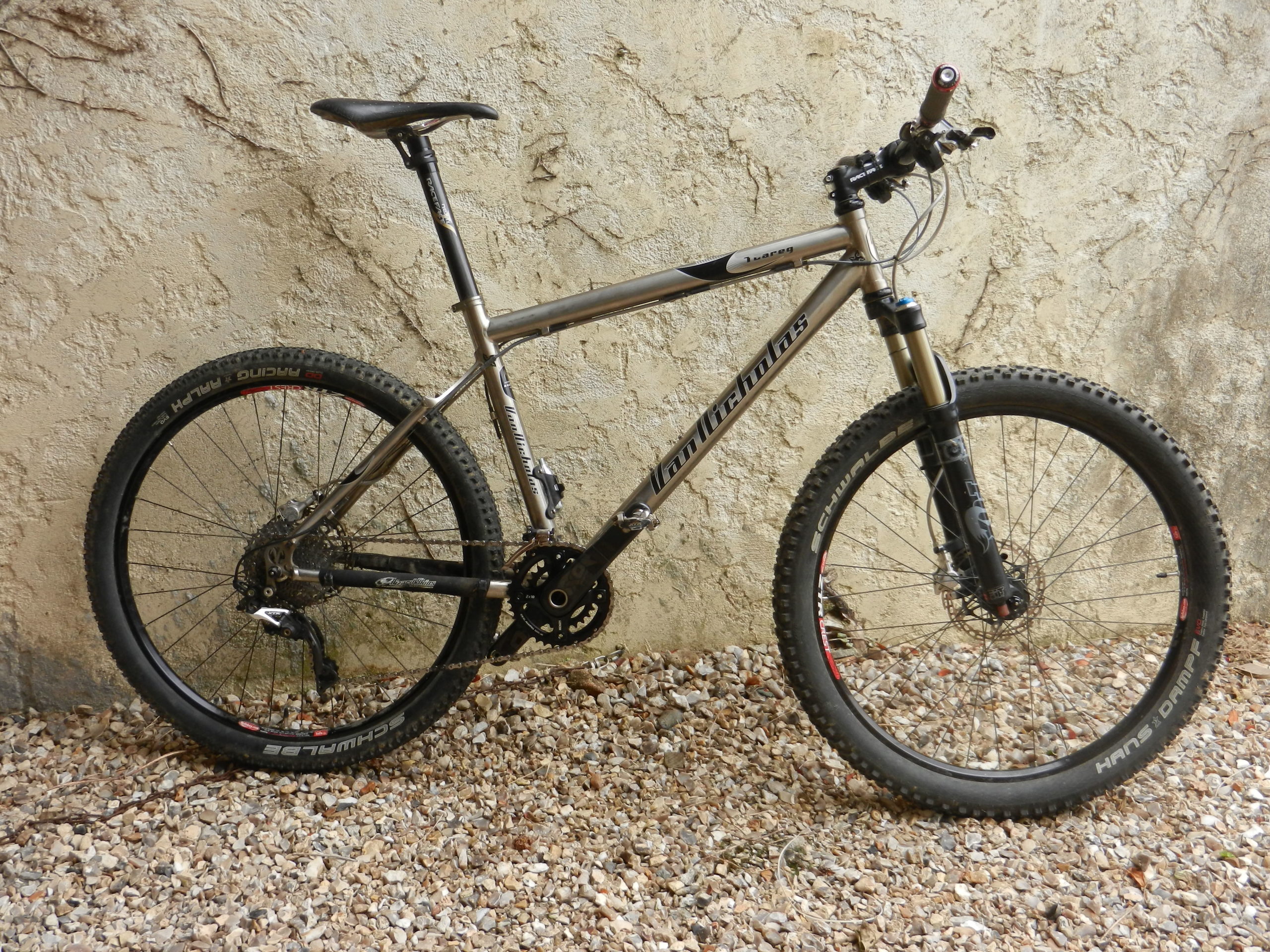 New Cassette
For info I've fitted a horrible XT 11/36 cassette. it's so big (I've always used a 11/32, so the 11/36 seems so big.
I will need the 36 as with the 28 front ring its going to be hard work on the hills, before I was running a 22/32/42 crankset and now it's a 28/40, this means that the 28/36 will give me the equivalent of a 22/28 (before it was 22/32) so I missing a couple of pignons.
I just hope that I can hack it, otherwise I'll be walking more and more on the steep sections.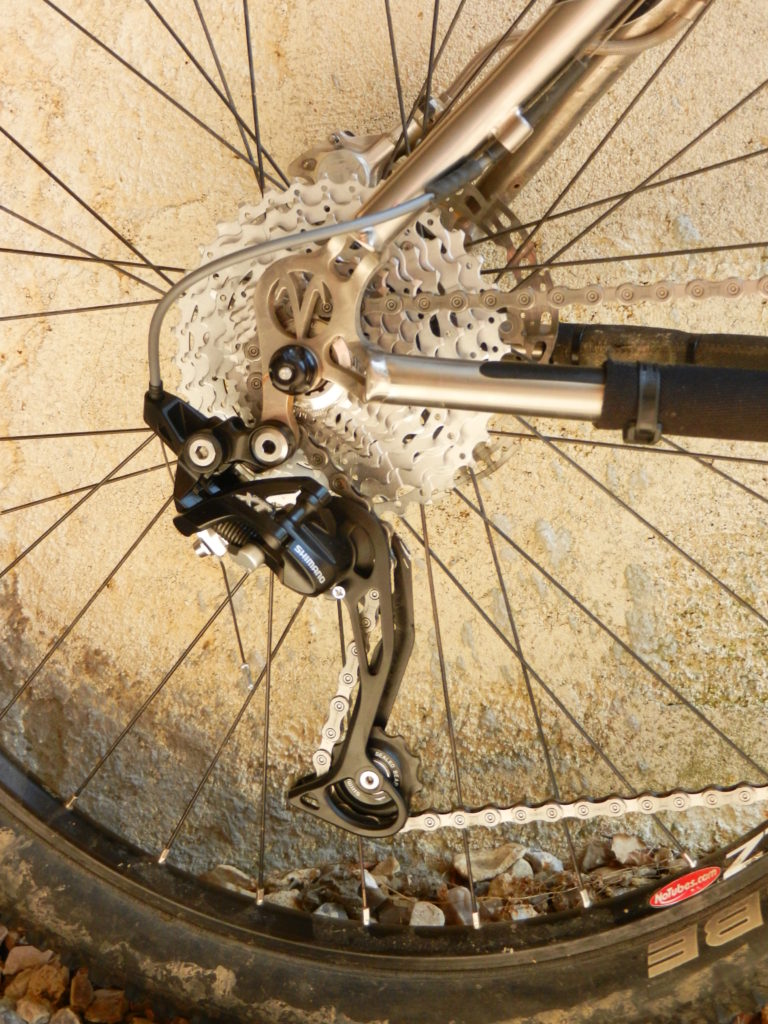 Update September 2012 : In a few weeks time I'm going down south of France for the Roc d'Aur. Europe's biggest MTB meeting.
Normally I do with the Rocky Mountain with it's 3 * 9 setup, but I've just sold this and so I'm going to do it with the Van Nicholas.
My only concern is the 2 * 10 Cranks running a 28/40 setup. Here where I live it's fine. Rarely needing a higher gear. But with the Roc this will not be the case as there are serious hard climbs to de done.
Changed again
I've just bought a Sram 2 * 10 XO 26/39 cranks, with the back 36 cog this should be enough to get me up the most of the climbs.
It's finished … again 10.7 kilos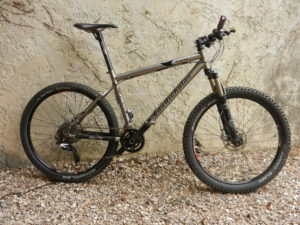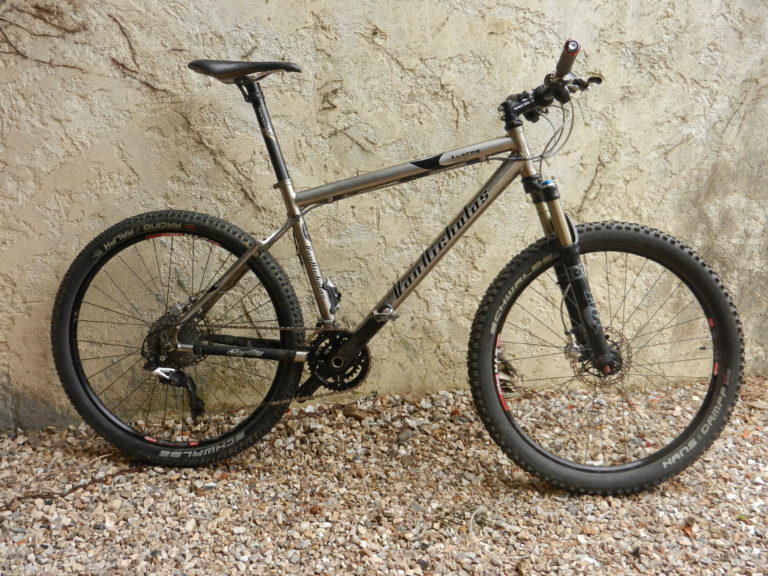 A broken frame
While starting the Roc d'Azur this year October in the south of France. The very first day. The friend with whom I was riding said to me while we were taking a break, "hey look your frame looks funny around the seat post". Looking closer we saw that the frame was fractured around and slightly above the seat tube welding. Oh shit.
Guess who broke his Van Nicholas Tuareg 26″ frame
So back to the car 'riding standing' up for most of the ride, to take a real look at the frame. It was almost completely fractured as can be seen in the photos, in fact luckily for me I ride with a 400 mm seat post and over 145 mm are inside the tubing as it was my seat post that was keeping the frame intact and possibly saving me from a nasty accident.
Lifetime Guarantee
A week later and back home (I finished the Roc d'Azur with my old Rocky Mountain that I had sold to a friend a couple of weeks ago) I contacted Planet-X, On One bikes who were great.
They confirmed that the problem was covered by the guarantee, which was fairly obvious. They sent me a transporter to pick up the frame once I had stripped it completely down, compliments here to On One as I live in France and they paid for the transport. This was done two days after my phone call and confirmation par mail, very fast Bravo.
This was almost three weeks ago. I'm now still awaiting to see what Van Nicholas are going to do, as they can either repair the frame (I doubt and hope that is it not repairable) or change it for a new Tuareg frame. This will show how good the Van Nicholas guarantee is, for the moment I'm a little worried as they don't seem to be as rapid as On One was when I contacted them.
Changing the frame
Van Nicholas have finally come back to me. They have agreed to change the frame as its covered by the guarantee. The only 'hic' is that the new version of the Tuareg is a 27.5″ 650b only.
I don't mind this as I feel that it is the way to go for MTB bikes, leaving behind the old 26″ I will of course have to change my wheels, ahead set as it's a conical and of course my fork, but that I don't mind.
This frame should arrive end of January. So lets wait and see, it will give me time to buy the new gear and an excuse to start a new post on this blog of mine.
So for the moment I'm riding around on my Singlespeed https://bit.ly/2XNTt3n or my new Cannondale road bike https://bit.ly/3jQd9vv, when the weather permits.
Here's the follow up to this story with the building of the 27.5″ 650b frame that can be found here https://bit.ly/3sYbIhL