Here we are in 2013 and at last I have something to write about. Rebuilding my Tuareg Hardtail 🙂
………Psssss if you don't want to read all my blah blah and just want to see the latest build from this frame, jump directly to https://www.minty95.com/ymhf
Otherwise please read on and enjoy
Last year my favourite mountain bike of all times a Van Nicholas Tuareg frame broke (https://www.minty95.com/a4yf), the frame cracked and so I ended my biking year riding only my road bikes, luckily for me it was a shitty end of year weather wise and so didn't worry me to much, except that I missed doing the Roc d'Azur, France's (and probably Europe's) biggest and best mountain bikes race.
As Van Nicholas Titanium frames carry a life time guarantee, I got in touch with them to see about getting the frame changed, this was in October 2012. My Tuareg frame was a 26″model and for the coming year 2013 they were going over to the 27.5″ – 650b version, in which I think that they are right in doing so, but this meant that they had no frames left in stock and that I would have to wait until 2013 to receive a new frame.
As the Tuareg was and still is one of the best Hard Tail Ti frame's around (especially now that it's taken the 27.5″ – 650b direction) I decided to wait for the new frame to arrive (though I didn't really have a choice), though this meant losing months of MTB riding and incurring new costs for new components that would have to be bought.
Impatient to receive my frame and get some MTBing done, I've started buying the new equipment before the frame arrives, why ? because my existing components forks, wheels and headset will not fit the 27.5″ as they are for a 26″ frame, also to save some time, as soon as I get the frame I can build it. This I knew when I accepted the offer for the exchange and was happy with (my wife, less so) to buy new components.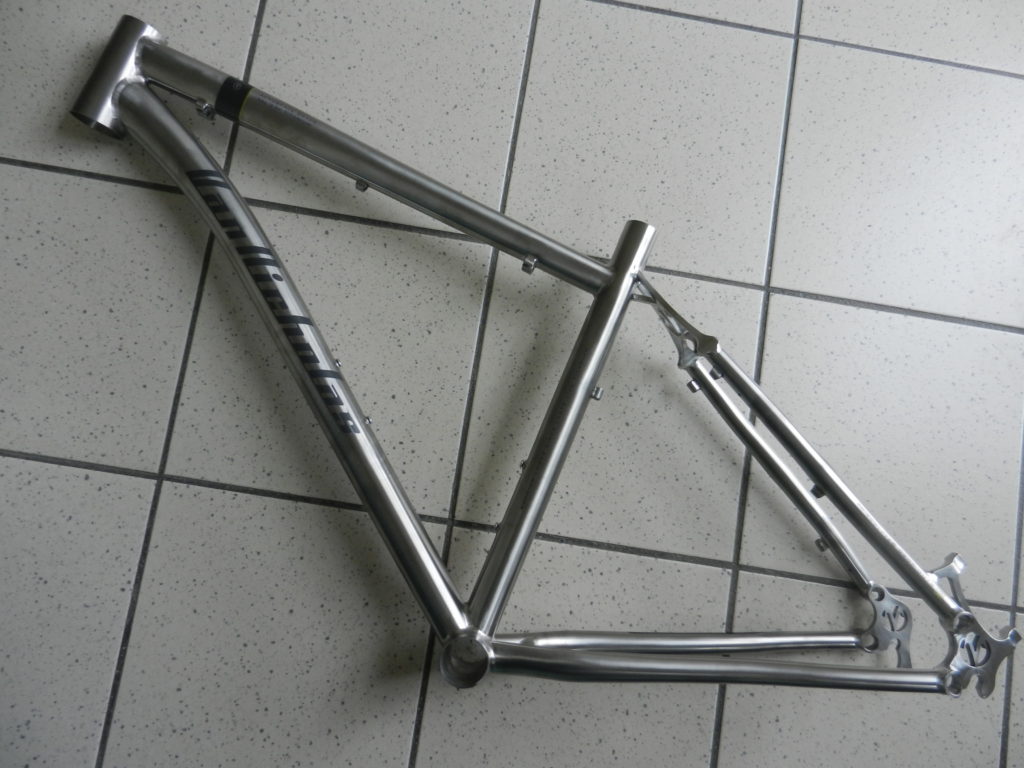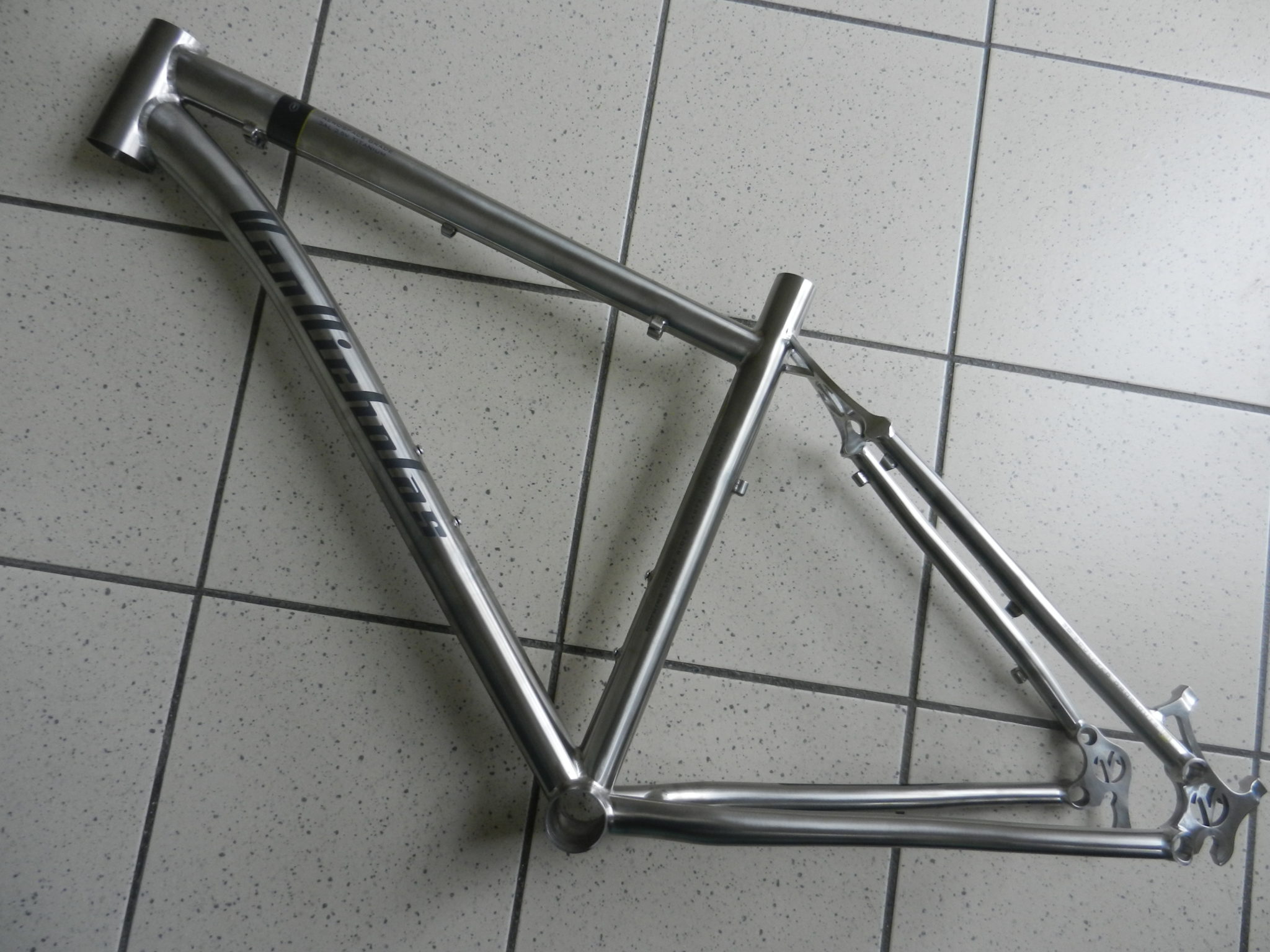 25 February 2013 : The frame has arrived, like my last one its good, nice welding, this one seems stronger than the older version, the drops at the back are smaller and seems thicker, The triangle behind the seat post has an extra piece welded to the post giving it extra strength, It weighs in at 1.76kilos
Here are some technical details that are not shown on the Van Nicholas web site, the 17.5″ version is 1.76 kilos, it has a tapered headset, top 44 mm, bottom 49 mm, the bottom bracket is a press fit 89.5 mm and not 68 mm as shown on their site. The seat post is also a different size than their web site shows, it's a 30.9 mm and not a 31.6 mm.
1rst purchase : Received
Magura fork TS8 R100
Black version
It's light, 1570 gms (weighed on postal scales, without the QR and 74 gms for the QR), a 100mm travel which is perfect for the frame, and has a 15mm QR rather than 9mm standard which should be more rigid, and the specs look good, For info it's 110gms heavier than the Fox on the older bike.
2nd purchase : Received
Wheels http://www.jpracingbike1.com/ this is a company that specialise in building wheels and have a very good reputation, and they are French which makes a nice change, sadly as these are being hand built, they wont be ready before the middle of March.
I going to stay with NoTubes Crest as they are excellent rims, changing hubs, spokes though this time
Made to measure, this will be the most expensive item as the wheel set will set me back 820 euros. These weigh in at 1385 gms the pair, very light and very strong 🙂
NoTubes ZTR Crest rims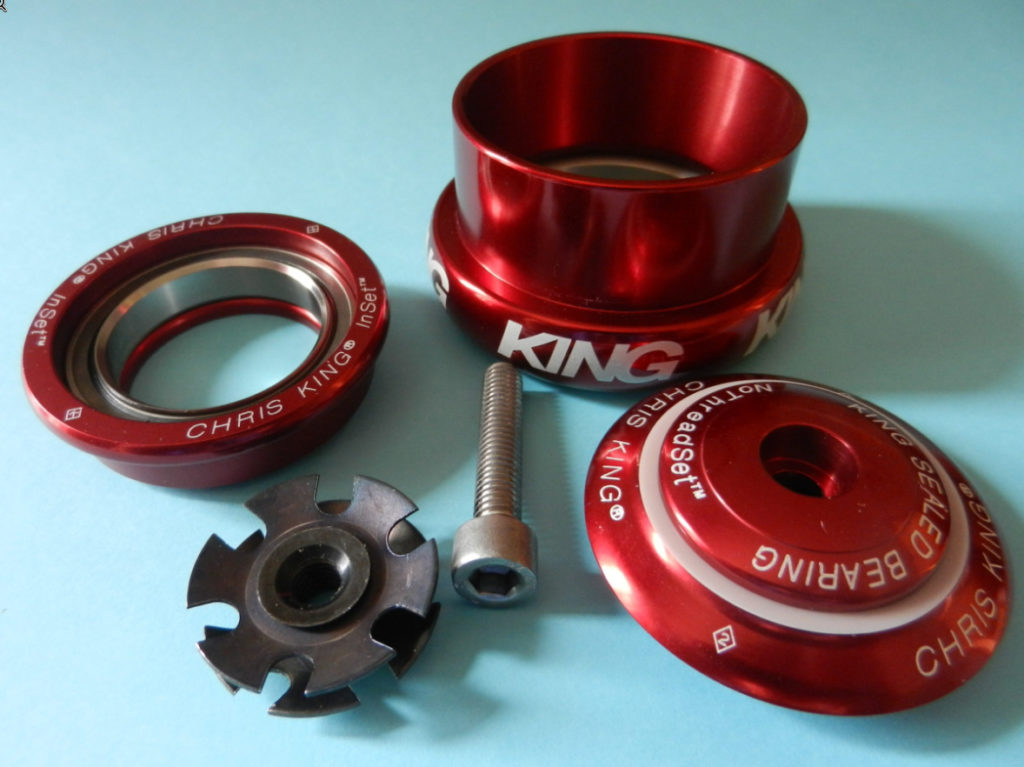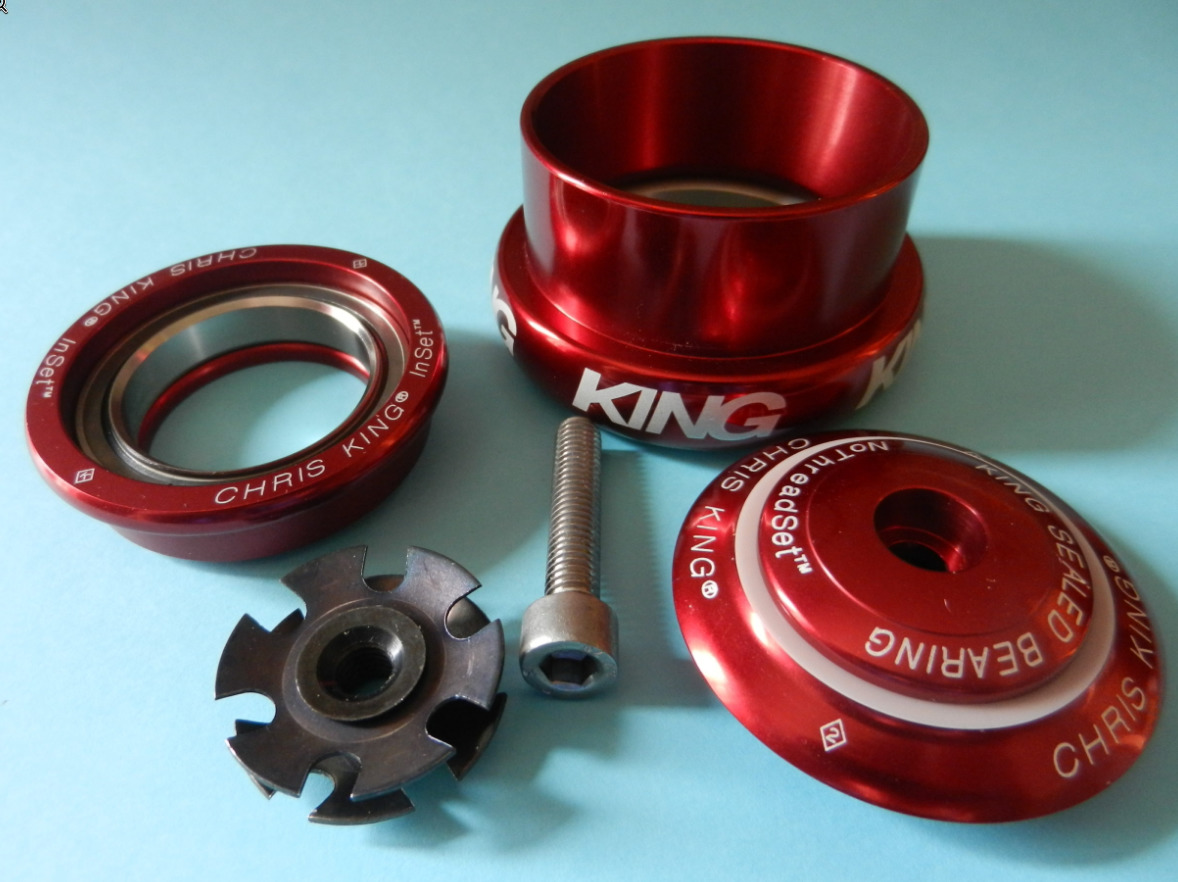 3rd purchase : Received
Headset, this will be a Chris King headset, as the frame and my fork are conical / tapered I sadly cannot use my old one.
Van Nicholas informed me that it's a 49 mm lower cup, (there are two standards 49 mm & 56 mm to make life difficult in tapered headsets) this will set me back $160 I'm matching the colour with the wheel hubs.

4th purchase

Received


As this frame is a pressfit BB (not shown on the Van Nicholas web site) I've ordered a Truvativ Ceramic GXP BB, bloody silly price at 160€ but meant to be the best around, and I gain 40 grams, whoopy….
I have already ordered and received the tyres, I will be using Schwalbe Rocket Rons for the front and Racing Ralph for the back, sadly for the moment Schwalbe don't make the Racing Ralphs in DD version, which I prefer even if they are heavier.
Odds and ends : I've fitted the Hope Tech X2 brakes  that I recuperated from the old Tuareg, these are rather sexy, machined CNC alu, with braided hoses, Both rotors are the floating Hope Saw rotors. . Shifters, pedals and derailleurs are Shimano XTR, Cranks are Sram XO 26/39 setup.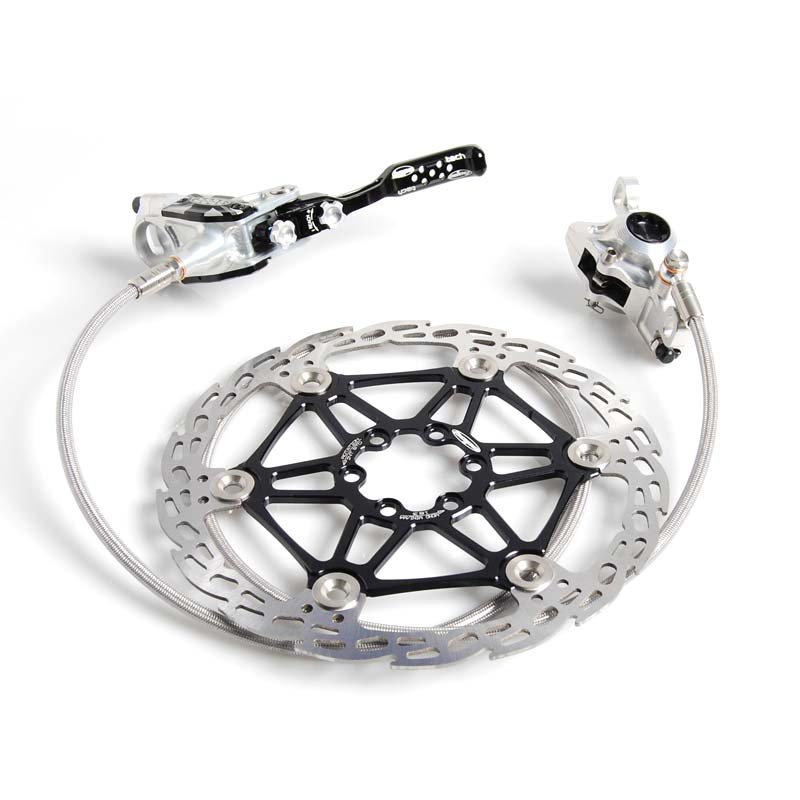 09/03/2013
Nearly finished
As with the previous Tuareg, Van Nicholas have not taken into account aviation cables that are used with some hydraulic brakes, and so I have to 'mod' the lugs so that I could insert the cables, why ? : standard lugs have an inside diameter of 5mm for a normal cable, aviation cables are 6mm and so they will not pass through, I got out the dremel cut a slot on the lug as seen in photos, then slipping a flat screwdriver in the slot was able to widen slightly the lug to take the cable, ran a fine metal file first to make sure no cutting or rough edges were left
I've since ditched the Racing Ralph and gone for a Cobra Hardskin, the RR is just to light and fragile for a back tyre and have to many friends that puncture or torn them to often, so I am trying the Cobra, its heavier but 'safer' (until Schwalble bring the RRs in DD version for the 27.5), have also bought a Rubena Scylla tire to try, they look good, are not to heavy and are almost 20€ cheaper than the Schwalbe, now fitted but not tried yet.
Have added the Hope matchmakers for the brakes and the XTR shifters, making the handlebars look much tidier, I have also changed cassette to a Sram 1099 saving over 120 grams ….
To see the bike finished and built up https://www.minty95.com/ymhf
A quick link to Van Nicholas Tuareg page
https://www.vannicholas.com/mountain-bikes/tuareg-27-5
More photos