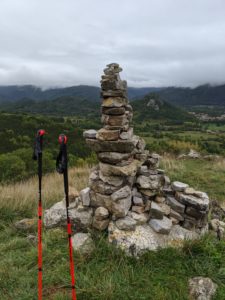 Le GR107 le Chemin des Bonhommes.
The following is my 6 day trek on this GR107.
Roughly 100kms
Le GR107 le Chemin des Bonhommes. The following is my 6 day trek on this GR107. Roughly 100kms.
It can be quite technical sometimes. I do suggest trekking poles.
It was done in the second week of October 2019. I've tried to add the photos in the right order.
Day 1


From Montgailhard to Roquefixade

It had rained in the night. I was lucky, it stopped just before breakfast.
From the B&B in Montgaillard 'Le Chalet du Pic' which was not only pretty but dammed good. Cheap, clean, comfortable and with a great breakfast. Also it's only a 100m from the start of the GR107 (for info, the start is now in Montgailhard and no longer in Foix, unless it changes back) this is for both the GR107 and also the GR367
I took the wrong path at first just after the B&B. Following a small path uphill, but doubled back after 500m and all went well after. From the start just follow the road until a crossing, and then hit the trail on the opposite side of the road, it's clearly signposted.
I used my Garmin Fenix 5x and my Garmin 64s to record my trail. The 64s I also use to follow the GPX track that I had previously downloaded to it. Sadly the Garmin Fénix 5x didn't want to track the walk. It kept stopping. I luckily I had the Garmin 64s recording as well so at least I knew the distance I was walking.
In some places walking was hard work, as it's very stony and they were slippery from last night's rain. I had broughtwith me my new Leki Micro Stick Carbon trekking poles. I was glad that I had them. As I was recovering from a previous broken ankle and both ankles were telling me that I shouldn't have run the 13 kms trail the week before.
The path is fairly well marked. You can't get lost. Also I had the gpx trace on the 64s. This is pretty much so of all the 100 kms that I did
Leychat
I lunched at a village called Leychat at the church. There's a water tap there and a place to eat out of the wind and rain. My first warmed up lyophilisé meal, pretty iffish. I couldn't find the coffee either, doh… Now with experience I know where everything is in my rucksack.
Gas canister 110gm. Amicus stove and a Toaks 750ml pan, only 4 mins to warm up about 400ml of water. At the church you are protected from the wind as the weather wasn't brilliant, not cold, slightly damp. I timed the cooking as wanted to try and calculate how long a 110gm gas canister would last.
When arriving in Roquefixade I took the gite there. As I didn't see anywhere that I could bivouac. Not being a real bivouac person I am unused to this way of camping for the moment.
First time in my life that I'd slept in a gite, I took the option with evening meal and breakfast. The shower was small but nice and hot. The bed OK, there was just a quilt and a pillow. So I used my 'sac a viande' (sleeping bag sheet). Food en the evening was really good, as good as my wife's. Lots to eat and drink. Breakfast just as good. All that for only 46 euros (with some beers before dinner)
Day 1 photos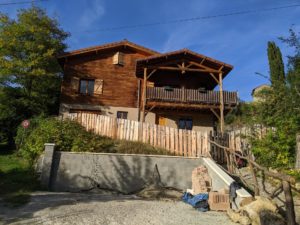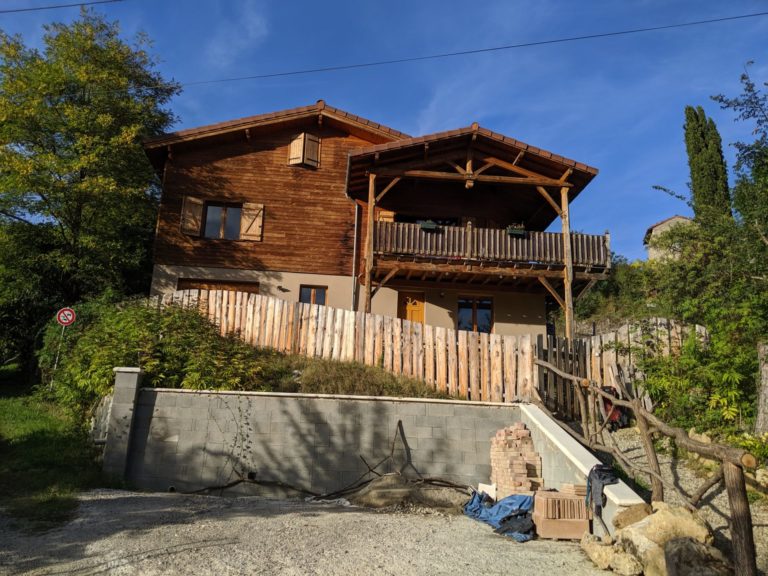 Day 2


From Roquefixadee to Montsegur,
Today the paths were really muddy and sometimes quite technical and very slippery. I'm glad that I had bought these trekking poles
Like yesterday the Fénix 5x was playing up. It took me hours to suss out the problem. I had auto-pause as always on. The problem was I was walking so slow in some technical sections or up and down sections that it was paused all the time. I needed to set it to a custom speed of 1.6km and the problem was solved. Normally the auto-pause is 5km. This is fine when you run or bike. But here the paths were quite technical, and with some biggish up and downs. Custom speed settings to the lowest setting possible 1.6km solved the problem.
Montsegur
A lot of the paths were in the forest, so little sun. I arrived at Montsegur, the camping was closed for the season. That I knew in advance.
I had already decided to bivouac. It was early. I thought that I advance on Friday's étape. The problem was that other than back in the town there was 'réseau téléphonique' what so ever. I was worried that Sophie my wife would worry not having any news from me. So I continued until I found a spot with GSM coverage and she got a message from me saying all OK. Then I could bivouac. Should have done that earlier as I added about another 5 kms walking, and in some really muddy parts of the forest.
The Bivouac although OK, but it was in the middle of nowhere. A small clearing in the forest. I was worried about animals. This was my second bivouac ever. I didn't sleep to well. All for nothing as didn't see or hear anything (hearing… as I'm deaf, I would hear much anyway ….)
Day 2 photos
Day 3


From the hameau de Pelail to Comus

Up around 7am. I ate breakfast while awaiting the sun to rise over the hilltops. Started from a very damp and chilly morning in the forest. Of course, the water point that I knew was near but didn't want to try and find last night was only about 600 meters further on. Also it would have been a perfect spot for bivouacking as there's a picnic spot there and plenty of room to pitch a tent. Hameau de Pelail
Today's walk started with about 2.5 kms on a dead-end road. Then the path, totally different from the forest tracks yesterday, takes you into the Gorges de Frau. The last two days walk was mud and forests. Today stones and loads of wind between massive cliffs, pretty neat. I enjoyed it thoroughly. But kept an eye on the cliffs and rocks. Fallen rocks were everywhere.
Comus
As I'd done about a third of the path last night only had about 10k do toady and so arrived at Comus at 12am. A lovely place in the hills. It was now sunny, so took the camping with a gîte (there are several gîtes in this village) altough camping I took the option for dîner and breakfast which was perfect. With a sun at 24 degrees washed and dried the clothes that I'd been wearing for three days, which meant, pants, socks, t-shirt and trousers.
The owner, said that yesterday was minus 4.
It wasn't that cold last night in the forest but I was lower at around 650m and protected by the surrounding forest. Tonight it could be fun, as here I was now at 1160m . So might freeze my balls off. For info as trying really lightweight trekking. I had left my very warm sleeping bag at home and brought my less warm quilt. Also smaller. It taking up almost half the room of the quilt size See https://bit.ly/3FnGmG4 for more details
Finally. It wasn't that cold. Although I slept in long-sleeved T-Shirt and long-legged undies. Both merinos. In the morning the flysheet was wet from the dew. The sun came out early so just managed to dry it out before leaving after breakfast.
The gîte at Comus, was expensive. More of an upper-class gîte. The sanitaires very clean and availble for me even though I was camping. Food good but rather than pasta it was slices of duck. Nice but ill-adapted for sport. I had camped as they have both options. It was the same price as Roquefixe. But there, I had a bed and wine (lots) with a better more adapted meal for persons doing sports.
Day 3 photos
Day 4
From Comus to Sorgeat
The walk starts nicely from Comus, flat for a change and mostly grassy until the town Prades. Loads of fountains with drinkable water in Prades and then uphill again to 1669m Col de Balagues.
Here at the top, I had a hard job finding the trail. The signs have disappeared. I wasted time trying to find the right way. Basically just continue over the top in the same direction for another 150/300 m and then left downwards towards the big peak, La dent d'Orlu. After a while you see maybe some cows and a sort of fencing in the distance, you walk towards that, you'll then arrive a large path/road.

Following the road this that leads you to the refuge de Chioula, though just before it you turn left and the refuge is on the right. I lunched here with a lovely view of what I had just walked. You can actually still see the Col de Balagues. even though it was over an hour ago. After this more uphill to the Col d'Ijou then a long long small single-track downhill walk until Sorgeat at 1050 m.
Sorgeat
I had planned on using the camping municipal a Sorgeat today. The camping was meant to be open. They had confirmed that by mail. When I arrived there was nobody except yearly pitched caravans. The office was closed and locked, but as there were loads of empty spaces I pitched my tent. I even used the showers and electricity to charge all my devices up. All free of charge.
Day 4 photos
Day 5


Sorgeat to Mérens

This was a hard day. Sorgeat to Ascou then downhill to Orgeix. A very long, steep and technical path with rocks everywhere. At the bottom Orgeix is a very pretty village with a river running through it. I stopped for 10 mins and ate a protein bar. Only saw one shop and that was closed.

From here an uphill that lasted 3h30, Oh boy… Until the refuge Col de Joux. I had previously planned to stay at. It's a long, very long stretch and it's a road/path where véhicules can use, though only 4*4 and so pretty boring.
The end is nice and grassy. I arrived at the refuge Col de Joux but it was far too early to stop for the night, which I had planed to do. So I sat down and ate lunch in the sun . For info the refuge sleeps about three to six people. I don't remember how many exactly, two in the main room. The main smaller room has a fireplace, double mattress and in the bigger room can sleep three maybe four. Though it needs a good spring cleaning and TBH didn't really look inviting. You could place a tent in front of the refuge as well, drinking water apparently is about 100 m away from a, a fountain. I had plenty of water so didn't go hunting for it.
After a nice rest I headed on towards Mérens les Vals. Yet again another big downhill that took well over an hour to complete
Mérens
I arrived around 16h30 at the Gîte de Mérens only to find it closed. Luckily there was a young man in front who was staying there and he said the owners would be back later. So I sat down and chatted with him in the sun, until the owners came back. There is big dortoir which can sleep about 15 people. But we were only two, so loads of room. The owners weren't doing dinner but we were allowed to use a small kitchen to cook for ourselves. They were doing breakfast though. A lovely place and the bed, showers plus breakfast only cost 21 euros.
Day 5 photos
Day 6


Mérens to l'Hospitalet près d'Andorre

This was to be my last day.
The weather was meant to change in a day or two. It was also it was my very first trek. Also I was finishing the French side of the GR107. The Spanish part starts in the mountains, and snow was on it's way. I'll do the Spanish section another time
The walk from Mérens to l'Hospitalet was fairly easy for about 2h30, following quite often the train line. It only takes about 2 hours. What I did notice was that at the end of Merens was a camping that was closed, (probably because it was October, the end of the season), I could have easily done a bivoauc there, as the gates were open.
Hospitalet près d'Andorre
At the town of Hospitalet près d'Andorre I stayed at the only hotel. Good food, room Ok though oldy woldy. Run by a nice bloke, friendly. I then took the night train back to Paris. One of the few night trains that still run in France.
Day 6 photos
Resumé
Le GR107 le Chemin des Bonhommes
This is a lovely trek to do. One of the best I've done so far. Fairly unknown. Better than the Stevenson that I did later in 2020. Less people on the paths. You will enjoy it.
Six days walking, over 100 kms and about 6000m de dénivelé. That is actually quite a lot for 100 kms
Ankles OK, better than I thought they would be, knees hurting, but only a little, the up and downs are tiring. There are some pretty technical parts. I'm really glad I had the trekking pôles. I wouldn't have managed otherwise.
Most of my equipment was up to scratch. Though I've since changed mostly everything again… https://lighterpack.com/r/0sh5le
Note that there are plenty of water fountains around, so water is not a problem except Merens where it was indicated as not tested and so maybe not drinkable. Though if boiled I would think it's not a problem. I now always have a water filter Sawyer with me. I saw no shops open anywhere during my 6 days hike. As I had enough dried food this was not a concern, but please take this into account. The villages that you go through are small and most have no shops.
Please feel free to ask me any questions, or leave any comments, as usual I muddle up my English with French words here and there, don't hesitate to tell me so that I can correct them.