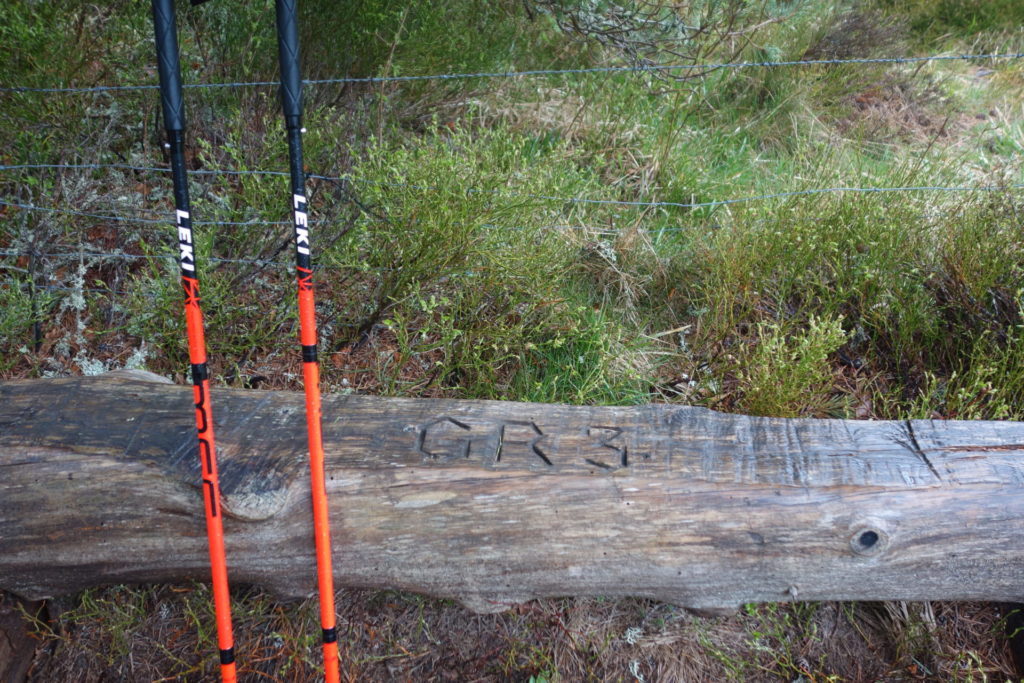 GR3 – Sentier de la Loire : Starting from the from Le Puy en Velay to Lavoine 200 kms. In total 6600m of ascent. (The complete GR3 in France is 1243 kms long)
As usual I used my Garmin 66i to follow the GPX trace that I had previously recorded on it and also record it while walking https://bit.ly/2WDlrOw
This year 2021 was a complicated year for everybody because of the Covid. In France we were allowed to go anywhere we wanted beginning May. So I took a train to the Puy en Velay to start a new trek.
My plan was to walk from Le Puy en Velay to Nevers a distance of 400 kms. The complete GR3 in France is 1243 kms long. I figured that 400 kms was already quite enough as I hadn't walked since last October. Finally I only walked 200 kms from the Le Puy en Velay to Lavoine because of bad weather.
The problem was that the month of May was one of the worst I'd ever seen, rain, rain, and more rain, the weather forecast was not at all good.
I arrived in the Puy en Velay Monday the 10th of May. It was and had been pissing down all day, again… What a start I thought.
After a pizza and a couple of beers in my hotel room. I couldn't eat out as all the restaurants were still closed because of Covid restrictions.
Day 1
Le Puy – Vorey (34 kms)
May 11th 2021
It was damp but no rain. I was lucky, after breakfast. Again in my hotel room. I set out around 9am.
Very damp and overcast but no rain. Whow I thought. Not so bad and so I started, leaving the town and almost straight away on to some nice paths. From now on until I finished seven days later a well marked GR. With the red and white markings. Leaving the Puy is all uphill. The first 30 – 45 mins are knackering 🙂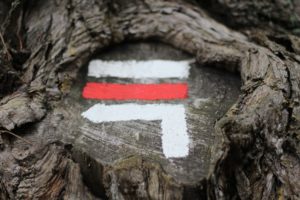 My first stop, a small village Polignac. 7 kms from Le Puy. I bought some bread and buns, lovely but also missed the correct GR turning and started following another GR. Probably because I was stuffing my face with a 'pain au chocolate'.
For info you need to turn right at the church, opposite the public toilets just after the bakers but I didn't notice until I walked for about 3 kms. I turned around, back to the village and then found the correct GR. This caused me to walk 6 kms more than I needed, doh…. so basically this section should only be 28 kms and not 34 kms.
The sun was shining now and so I kept on going to my first planned stop in a village called Vorey where there was a very decent camping. 'Camping Les Moulettes'. 4 stars, clean toilets, showers, a nice camping. I set up the tent, bought some beers and chocolate from a local store 100m away and settled down for the evening.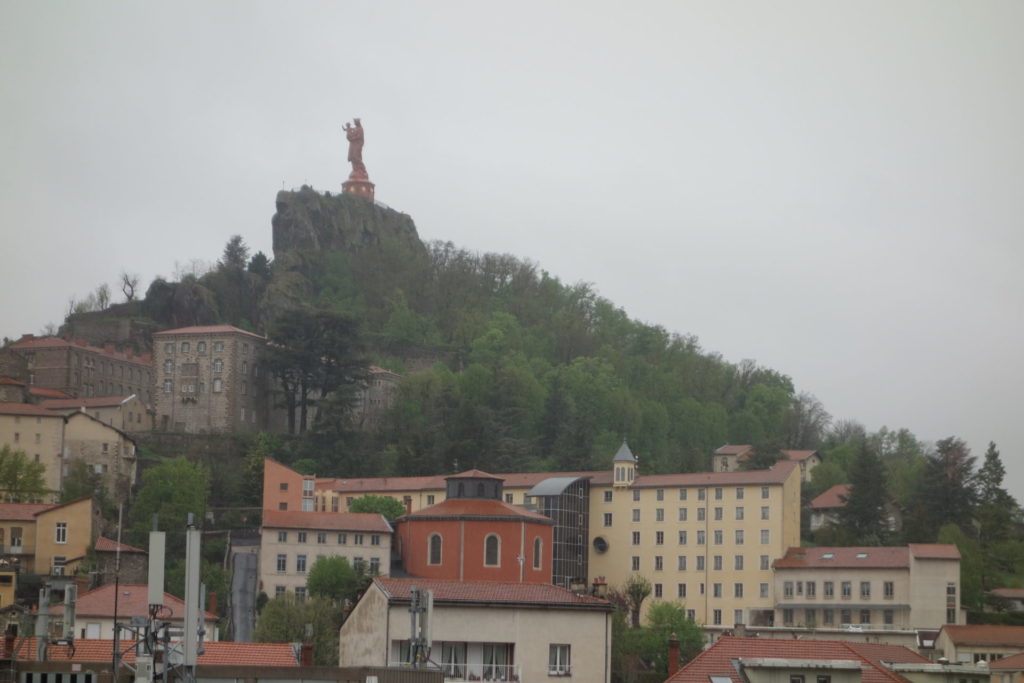 The end of the first day, a nice camping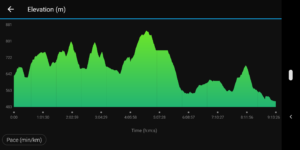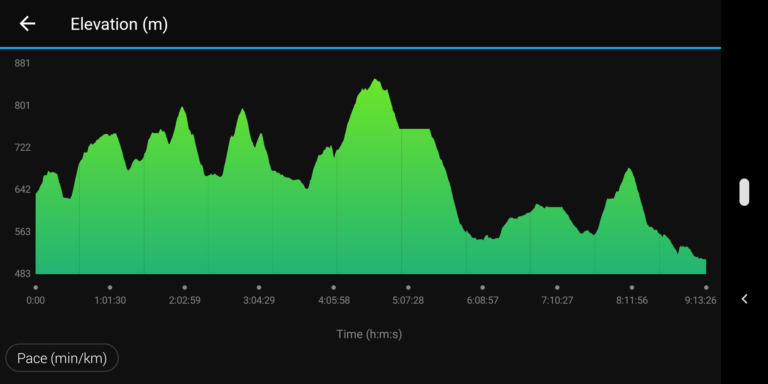 Here's my GPX trace that I recorded you can download it here bit.ly/3jqcXmI
Day 2
Vorey – Le Retournac (26 kms)
May 12th 2021
I awoke up to a very misty day. The hills around the camping were completely covered in mist. Also as the camping has a very nice little river running alongside, the tent was quite damp from condensation inside.
Starting from the camping is nice and very easy going, following the river 'Le Loire'. It's flat for a couple of kilometres, but then it goes up, and up and up…. and for a long time.
I'd planned to stay at the camping at a town called Le Retournac. Except when I arrived I found the camping definitively closed. So I carried on walking looking for somewhere to wild camp (Bivouac in french). 4 kms later I came across a very small cluster of houses and a farm in Jussac with a very nice small fenced in area with a table and benches, for walkers like me to rest or sit and eat.
There was also enough room to pitch my tent. Talking with some of the people who lived there, they didn't mind me pitching my tent, so a nice end to a tiring day.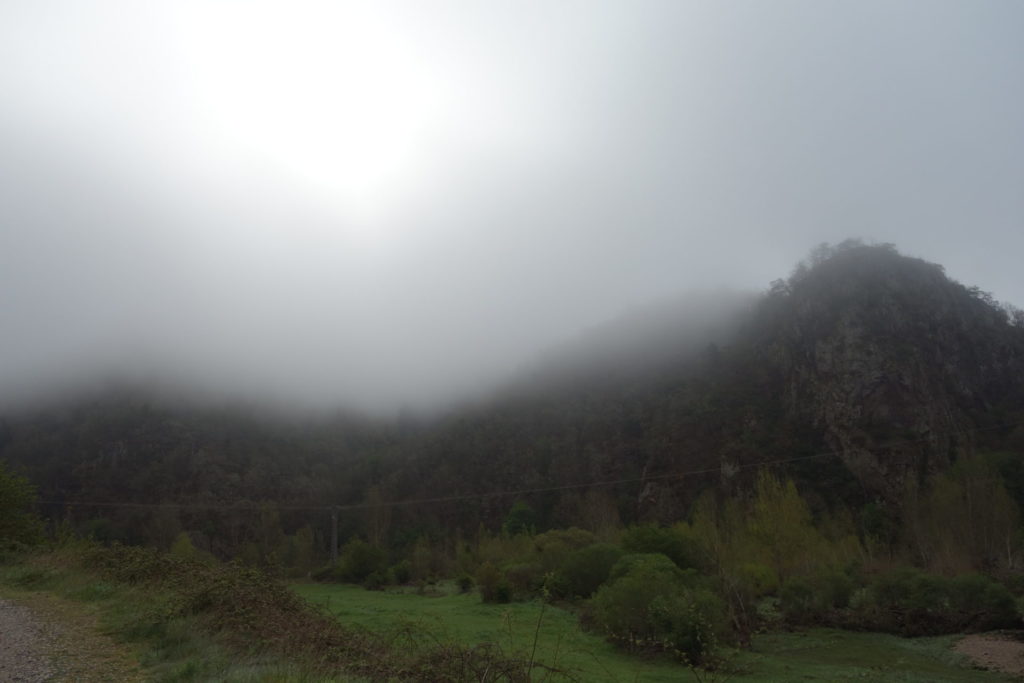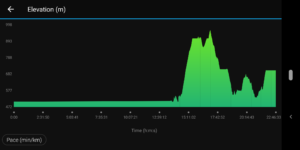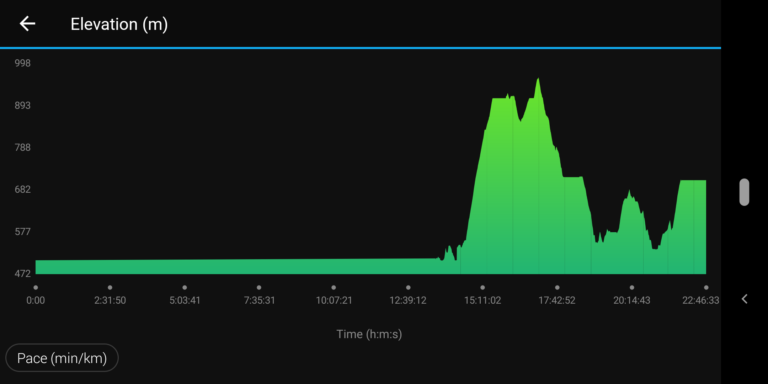 Here's my GPX trace that I recorded you can download it here bit.ly/3gIoR9A
Day 3
Le Retournac – Estivareilles (24 kms)
May 13th 2021
Leaving my little camp site with niceish weather around 9am. Direction Estivareilles for a camping called Le Colombier.
Not long after the start, I came across a village called Sarlanges, there is drinking water here from a tap and a refuge. The only refuge that I came across on my trip. In the refuge there is a 'table' / plank of wood that is easily big enough to eat, lie and sleep on, even for two persons at a squeeze. There was even a electricity socket though it wasn't working when I tried it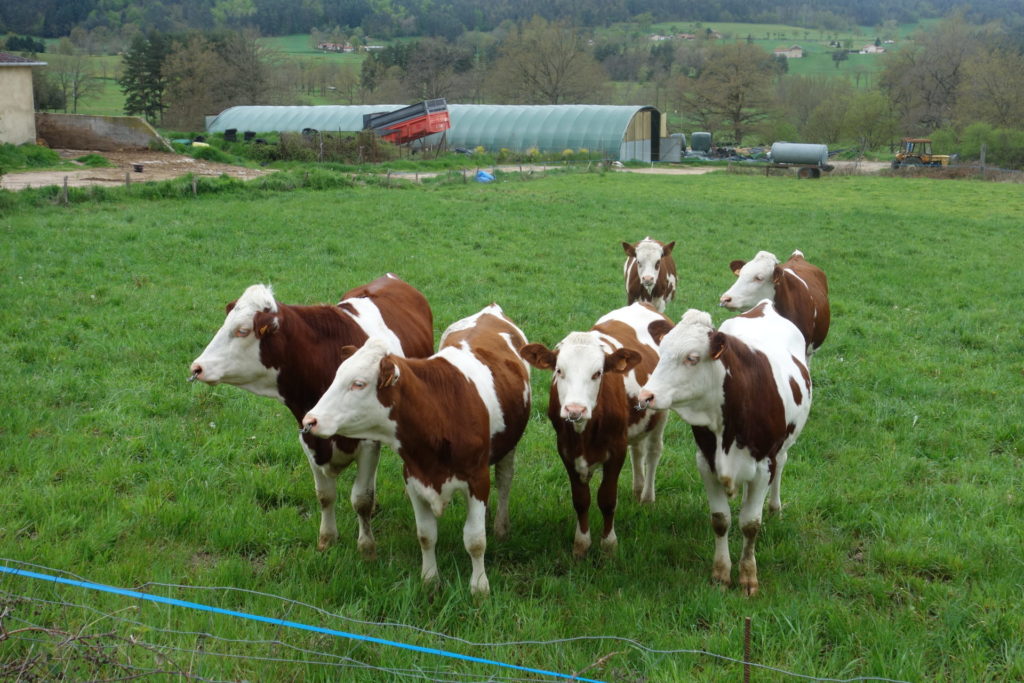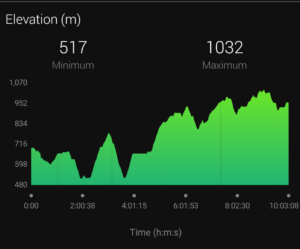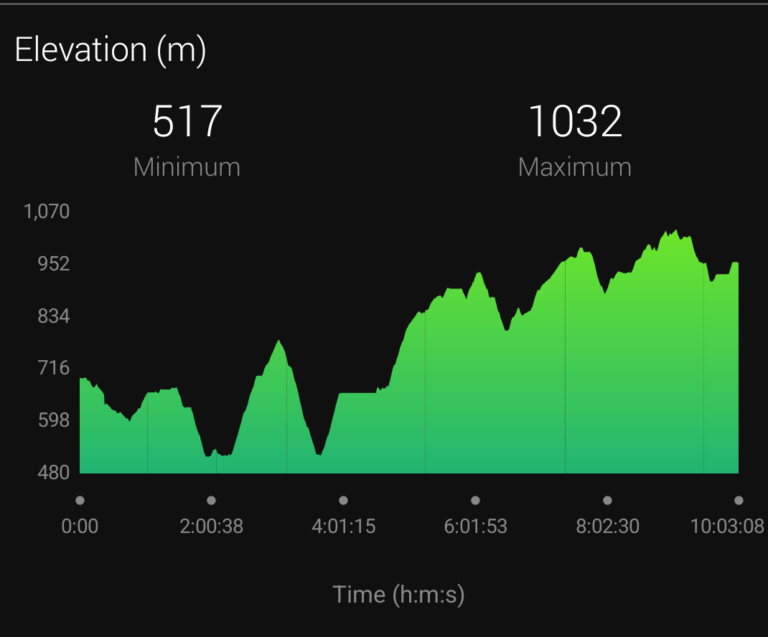 Concerning the camping. I had rang earlier in the day asking if it was open and the person replied that I could pitch the tent. Arriving a rather unfriendly women said, "were closed until the 19th" you can't stay here. I replied I'd rang just before and was told I could. Ungraciously she let me pitch the tent.
Nothing was working at this camp site except running water as it wasn't officially open. To be honest it's a real 'dive' dirty, old, one men's toilet, one women's toilet for the whole camp site, yuk. Note that I arrived it was about 6 pm. I noticed no shops in the village for the camping. Only a boulangerie that was already closed
Here's my GPX trace that I recorded you can download it here https://bit.ly/3DuYjTl
Day 4
Estivareilles – Bivouac (23 kms)
May 14th 2021
From the camping site, as always a nice walk, attention, no shops, no nothing until you get to Montarcher where there's a gîte and tea room though nothing else, you can grab a decent coffée and some lovely buns. As it was still Covid the restaurant was not open. Next to the loos inside, a electric socket, I managed to charge up my batteries while drinking my coffée.
After I continued to walk until my 110 kms point where I had planned to bivouac. I actually found a decent spot first time, a clearing in the forest, nice and secluded, I was luck it was sunny. Attention, where I pitched there is no réseau GMS so the telephone is a no no.
I use my Garmin 66i to send SMS, so I was able to inform my wife that I was stopping for the day. https://bit.ly/2WDlrOw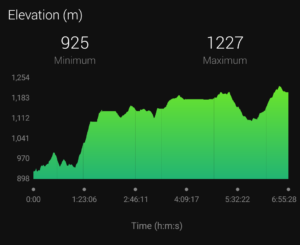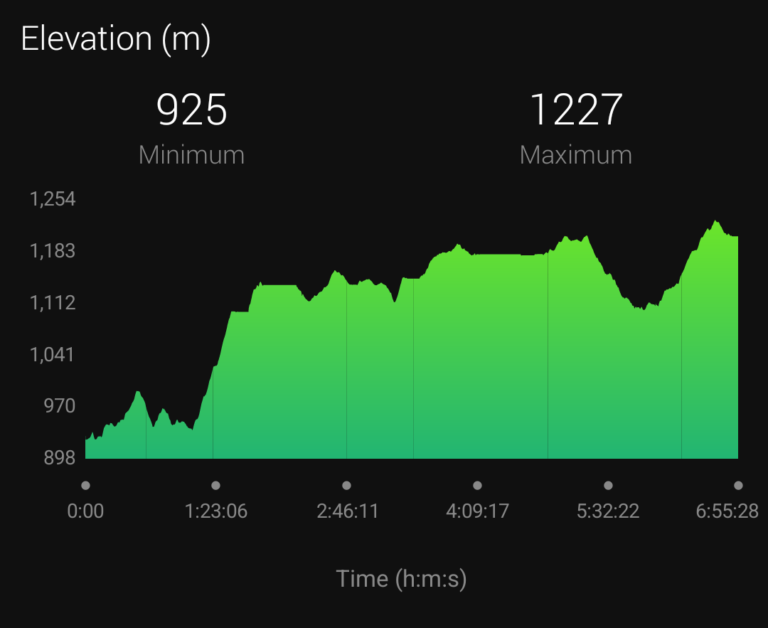 Here's my GPX trace that I recorded you can download it here bit.ly/3mHNlDT
Day 5

Bivouac – Col de la Loge (34 kms)
May 15th 2021
Today things went from iffish to bad
It was pouring down when I woke up in my bivouac, so no hot coffée to start the day.
Started walking in the pouring rain, with the idée to bivouac or grab one of the two gîtes at the same 135 km point. Col du Beal. (The most desolate spot I've ever seen)
This was hard going, very hard going, not only was it uphill for a long time right up to 1604 m, there were no shops, no villages, no nothing. Up on what I called a plateau at 1604m, the wind was extreme with a great deal of rain, making it hard to walk a straight line, still some snow on the ground. If you had a accident here, you could be in a serious problem quickly.
I'm lucky, I have all the right equipment, clothes wise, and so stayed pretty dried except for wrists and neck. I stayed dry, and warm, but then I had four layers of clothing on, all being highly technique, and high quality.
Boy is it bleak here….
Arriving at the 135 km mark, Col du Beal. Both the gîtes were closed (that will teach me not to ring and check beforehand). Also the weather was far to bad to pitch tent. No sheltered spot.
The wind and rain was howling around me and so checking my Garmin 66i and it's maps I decided I'h gave to carry on walking, hoping to find a sheltered spot later to pitch my tent.
Nothing, it's bleak here, in nice weather it would be okay, but today was not the day. About another 8 kms, I came across a small skiing station. Col de la Loge with an Auberge. To my amazement the doors were not locked and there were two women inside sitting next to a roaring fire.
Hello, "By any chance are you open, or can I rent a bed ?" I asked. "There is no way we are letting you back out in that weather" was the reply. And they showed me to a room, even though they were still officially closed .
This was a further than I planned to walk, but the stay was great, food good, local beers available as well, and the two sisters I can only describe a lovely. A great end to a partially bad day.
Only one photo today, the weather was just to bad to get out the telephone or the camera out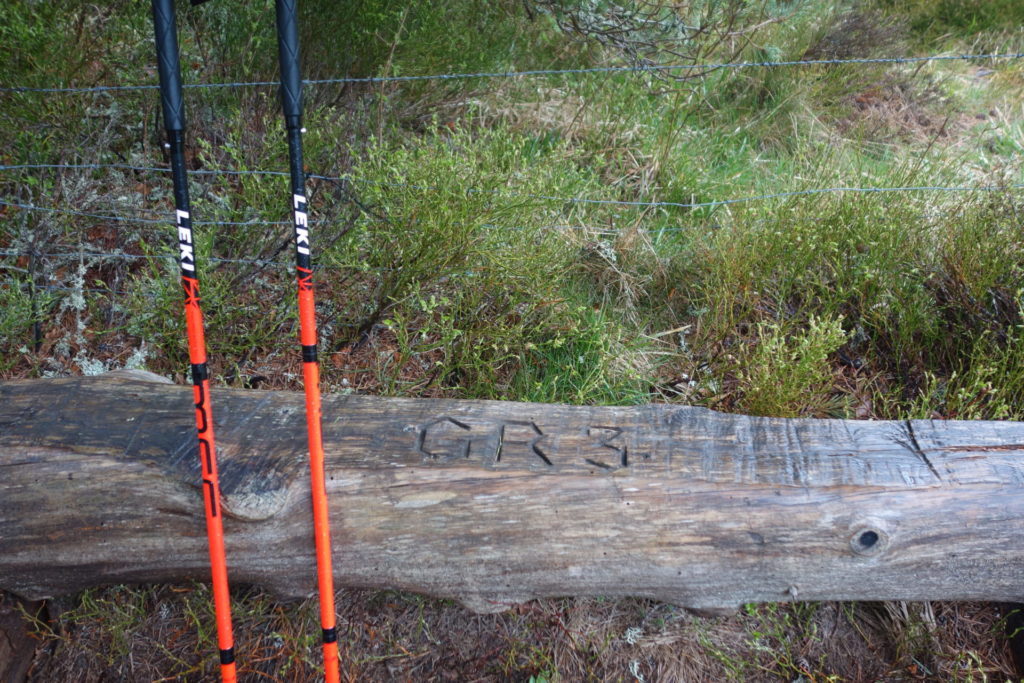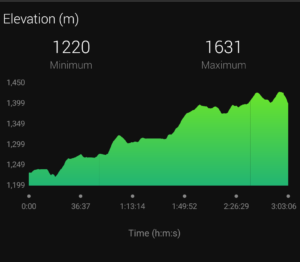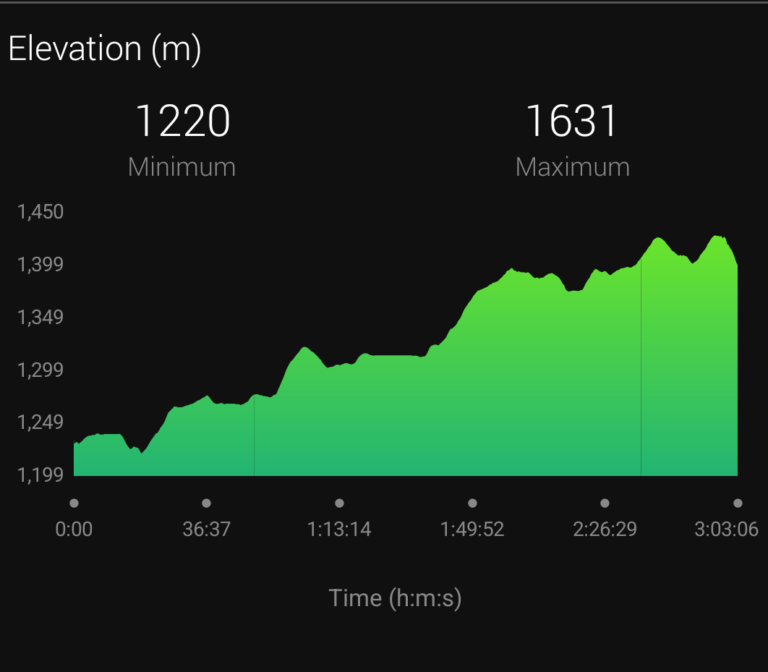 Here's my GPX trace that I recorded you can download it here bit.ly/3zxzuDK
Day 6
Col de la Loge – La Fortie (24 kms)
May 16th 2021
It's was still raining this morning, loads of mist, what a horrible way to start the day 🙁 though it let up a bit later in the day.
The previous days the ground was already very wet. Puddles, streams of water everywhere. This morning it was even worse. Water was running everywhere. Walking up or down paths was like walking in streams.
A Chapel….
Although a extremely wet walk, a very nice and surprising one, as you pass a chapel in the middle of nowhere, so strange. Not only is this very nice but it has a water source that is drinkable. You don't even need a water filter. There is a space on the right that you could pitch a tent. I cooked my lunch there, sheltered from the wind.
500 metres later, you come across 'Les grandes Sagnes de l'Hermitage'. I believe you can rent a room or rather a bed for the night. There is also a shop. What it sells I have no idea as it was closed probably because of Covid. .
I carried on walking until I reached the village La Fortie, there's a gîte there, but it was closed and the prices announced in the window were way to high……. 70€ a night, they must be joking…..
A couple of kilometres further I asked a farmer if I could pitch the tent in his field for the night. He wasn't too happy but said yes. Finally, on the top of his field and even had some sunlight. I was fixed for the evening.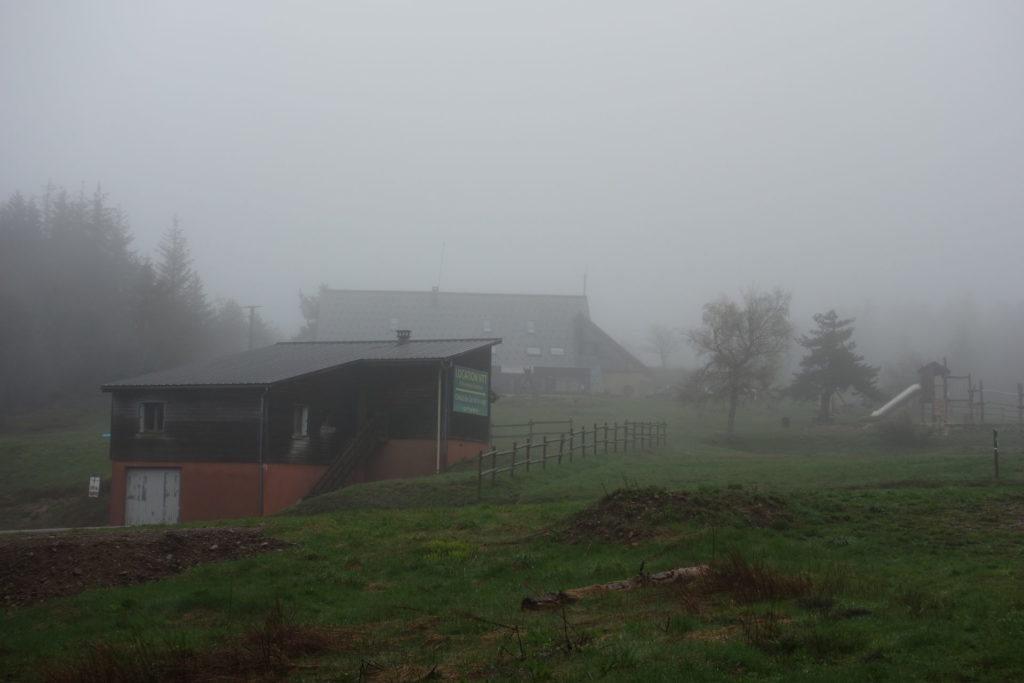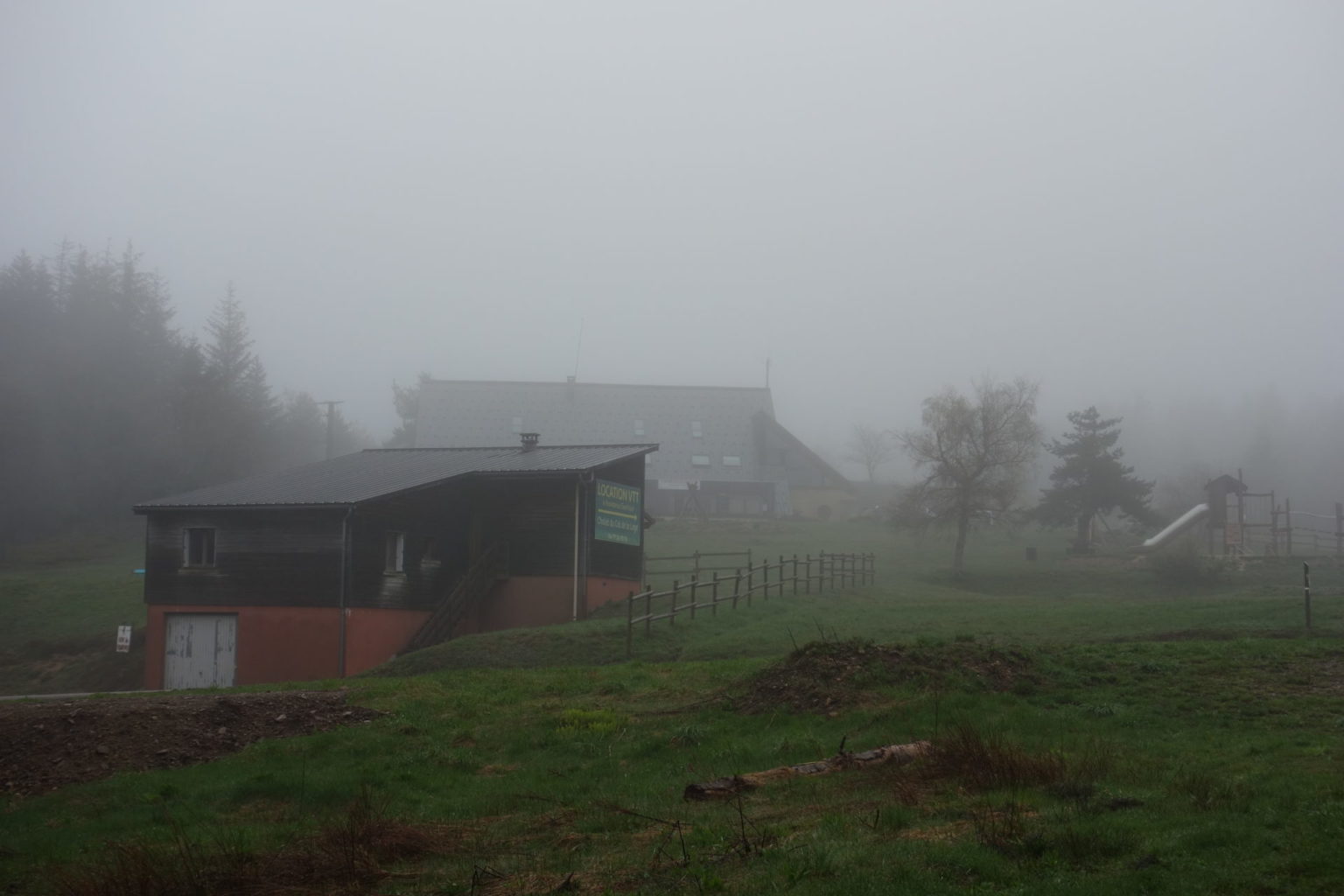 Even some sun at the end of the day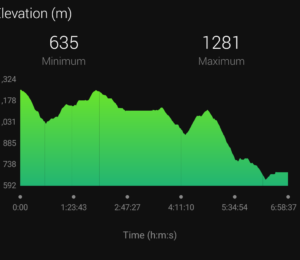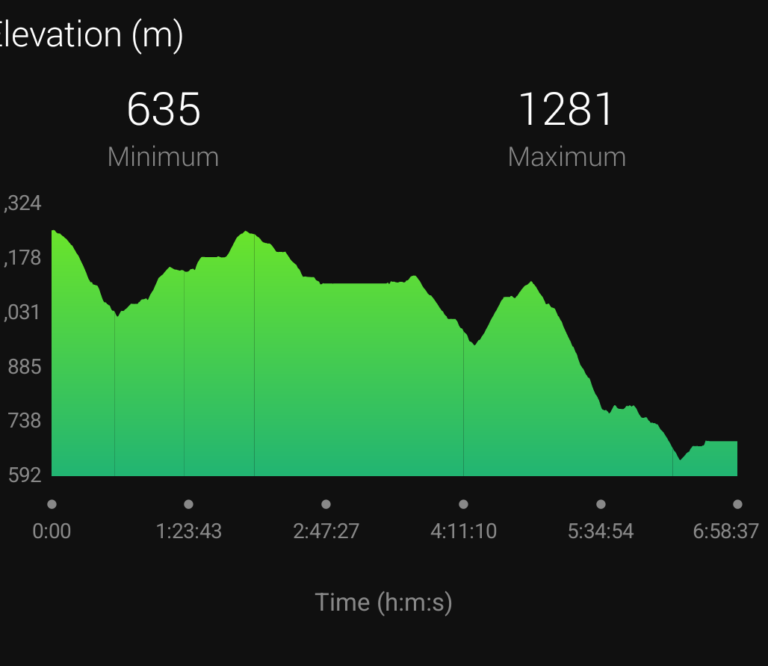 Here's my GPX trace that I recorded you can download it here bit.ly/3kx0BbW
Day 7




La Fortie to Lavoine (28 kms)
May 16th 2021
My last day, I had pretty much decided to stop my trek at this half way stage. The weather wasn't getting any better, the forecast was bad for the following week and another week in the rain wasn't appealing at all.
Although the weather held when I got up in the morning, it poured down again with lots of wind when I arrived at the highest point of the day, almost 1200m, also cold again. This making my mind up to call it a day when I got to the gîte. The Via Nova
The gîte was perfect. It's run by Mélanie and Francois. A lovely couple. The gîte is called the Via Nova. A big place. Loads of room and very confortable. They sell some local products such as food and wine. The wine was so dammed good that when getting back home I ordered 18 bottles ……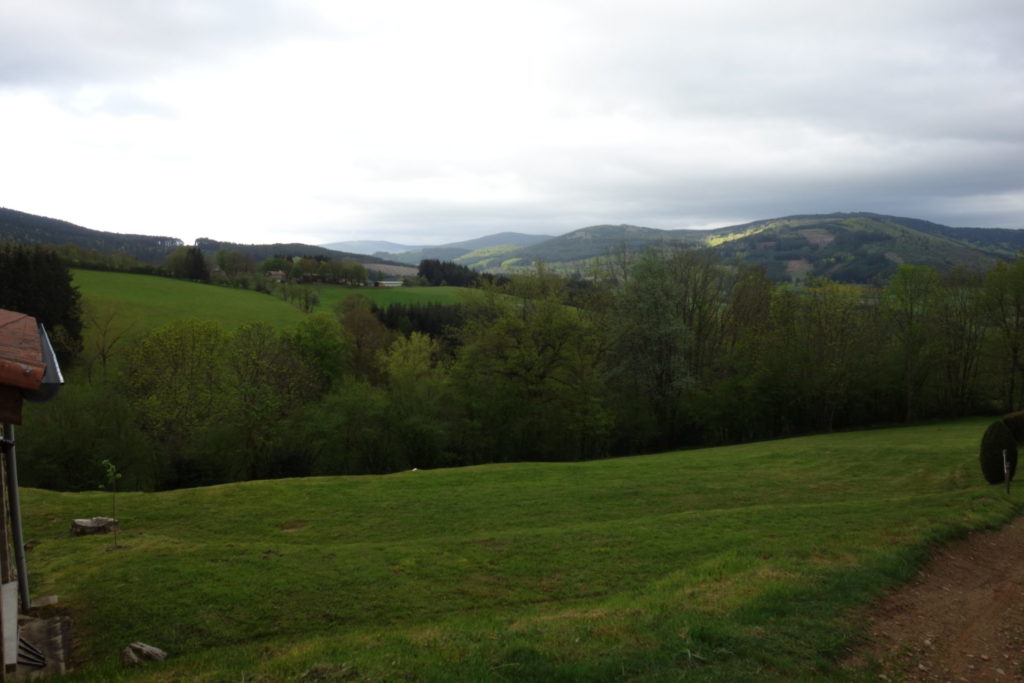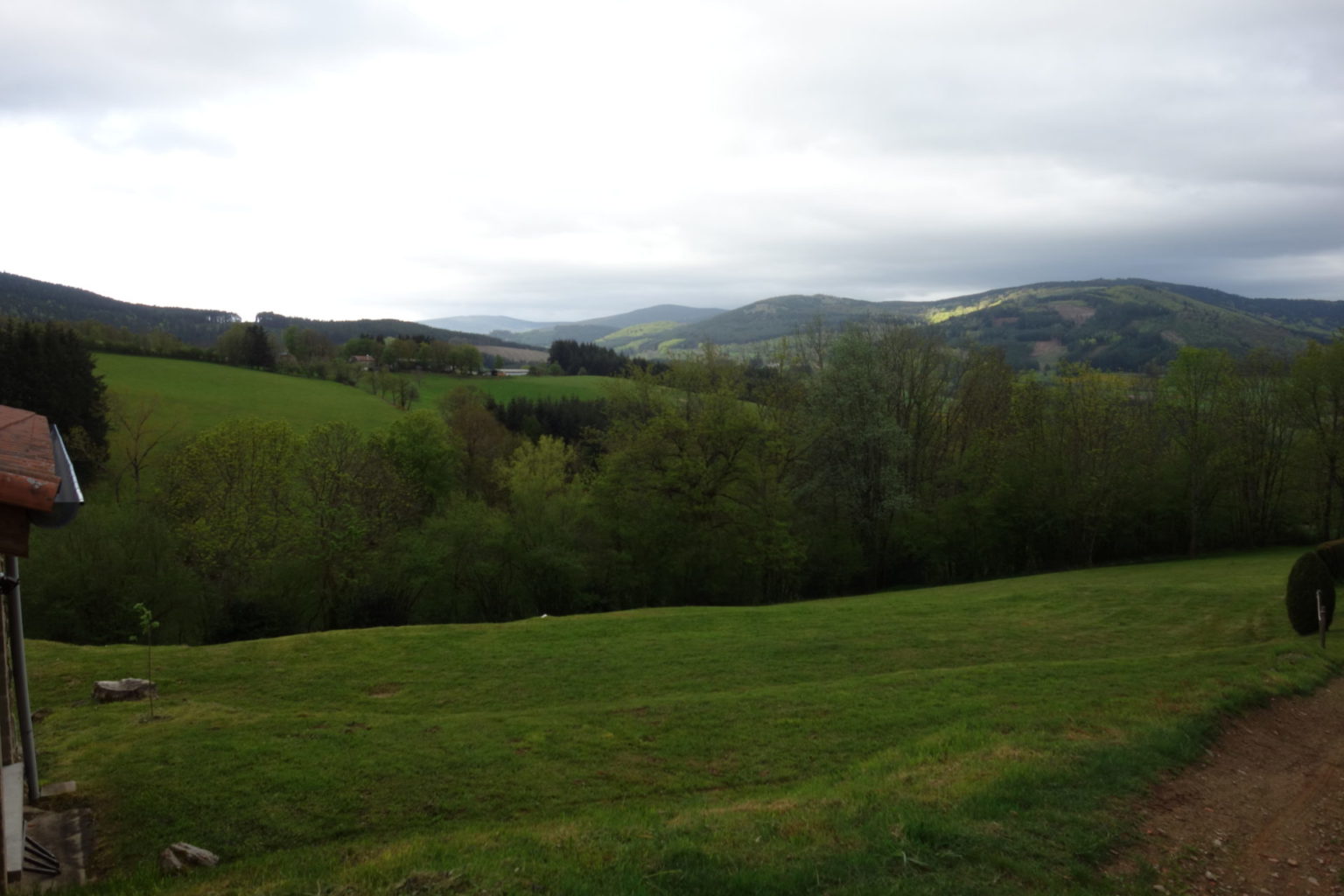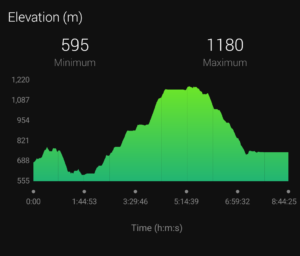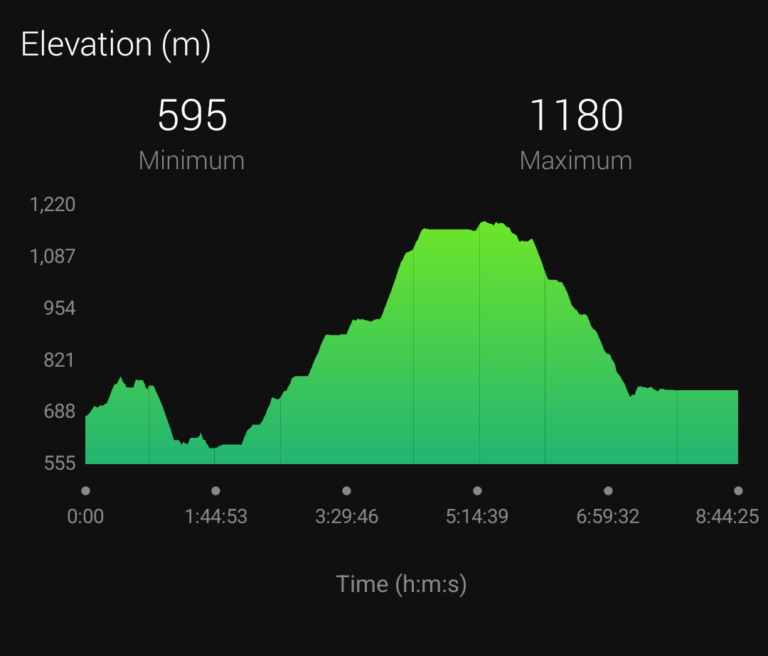 Here's my GPX trace that I recorded you can download it here bit.ly/3mX3Z2H
200 kms later
GR3 – Sentier de la Loire. Le GR3 in France is 1243 kms long.
GR3 – Sentier de la Loire is quiet and great, you won't meet many people, unlike the Stevenson that I did last year. Hopefully I'll find the time to a bit more of it.
I only walked 200 kms rather than the 400 that I wanted to do. The weather finally put me off. My legs were good. Just the weather put me off from continuing. Next time, I need to organise better lodging with some gîtes from time to time to be able to dry out stuff.
The month of May here in France was rain and wind for the whole of the country, an exceptionally bad month. I don't mind a little rain or wind, or cold, but every day, makes trekking just not fun. I knew that I should have waited but after lock-down I was eager to get out again.
The paths are lovely, just like the year before when I did the Stevenson, again from Le Puy, they can be quite technical. Loads of rocks, stones and of course, with a lot of dénivilé over 6600 m in 7 days. I suggest walking poles which I also use for my Tarptent StratoSpire1.
Take a water filter
You need to be quite fit. Especially if you are carrying a 13 kilos rucksack. Or you need to take your time. Water is easy to get hold of. Mostly from spring water sources / fountains. They are mostly indicated 'non potable'. Just use a water filter like the Sawyer.
Attention, many villages are extremely small, you can go through them with seeing a living soul or shop. Some days I didn't see a single shop, so you need to plan food, or like me have some dried food (lyophilisé) supplies just in case.
Here is the list of articles that I carried. Most of my food was lyophilisé, plus some bread and bun bought from the few shops I came across https://lighterpack.com/r/0sh5le
Here is a great blog in French, from a guy called Marcel, who actually walked the whole distance. Bravo http://www.periplimages.fr/2018/04/gr3-dernieres-infos-avant-le-depart.html
Here are more détails on the Le GR3 – Sentier de la Loire, but in French on Wikipedia.
https://fr.wikipedia.org/wiki/Sentier_de_grande_randonn%C3%A9e_3